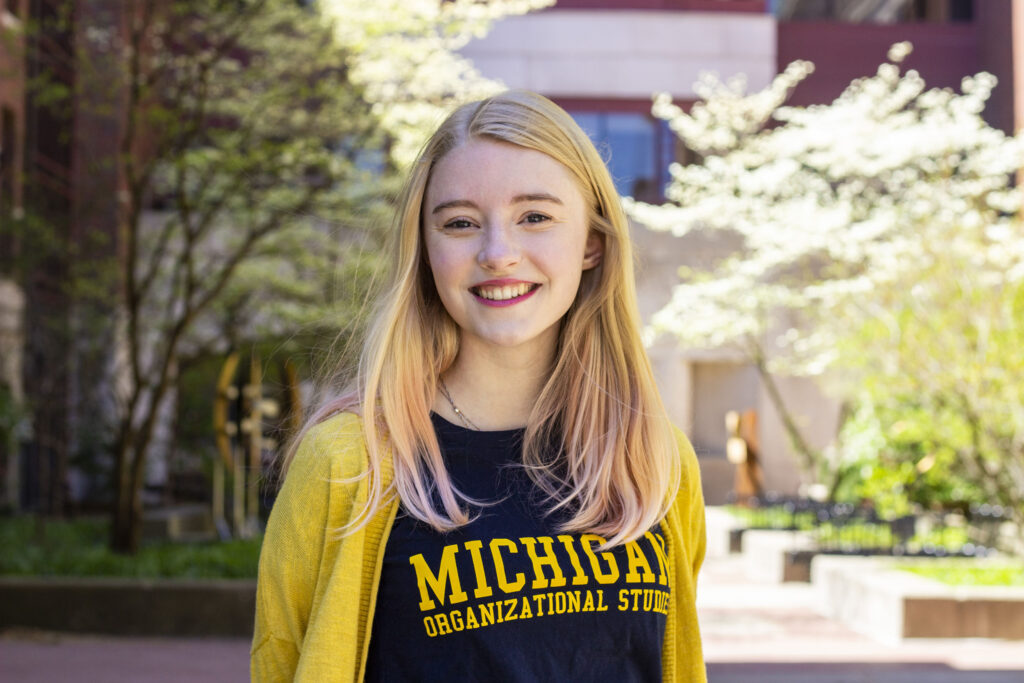 Sean Corp, Content Strategist
Amelia Berry has always been fascinated in how things work, and as an Organizational Studies major she hopes to not only make things work but make them work better. She was drawn to the major because, "understanding the underlying motivations of behaviors is the first step towards leading effectively." 
Her mix of interests and skills have served her well at the Center for Academic Innovation as the projected management fellow for the Extended Reality (XR) Initiative. As part of the XR Initiative, Berry manages many of the XR video projects by coordinating among media production, those building within virtual platforms and professors hoping to incorporate extended and virtual reality into online and residential courses. 
Before her project management role, the junior spent nearly a year as a media design student fellow with her signature project Michael Nebeling's "Extended Reality for Everyone" course series. 
Berry sat down to talk more about her role and work with the XR Initiative.
1. What is your role at CAI and what kind of projects have you worked on?
Currently, I am a Project Management Fellow for the Extended Reality Initiative. I was brought onto this team after previously working as a Media Design Fellow to manage 14 newly-funded XR projects from kickoff to completion. A majority of these projects have used a 360º video platform called Uptale, where faculty record content and use the platform to add in elements such as multiple choice questions and voice recording. Other than those projects, I have worked with my team on custom-developed projects, managing equipment, and various consulting projects across the University and external organizations.
2. Working on XR projects seems exciting but also a little intimidating. How do you and your team approach this new space when it comes to higher education?
My team and I approach XR with constant curiosity – I came onto this team with very little prior knowledge of XR and have loved learning about the breadth of technologies we work with and the massive array of applications they have in an educational setting.
3. How do you think your fellowship is preparing you for your future career?
My fellowship is preparing me incredibly well for my future career, as I aim to work as a Project Manager in some kind of media. The combination of technological and administrative work I do now seems to be the norm in project management across industries.
4. What is something you like to do in your spare time?
In my spare time, I like to read thriller books, knit, play with my cat.
5. If you could go back in time and tell yourself one thing on your first day on campus as a student at U-M what would it be?
I would tell myself to not worry about fitting in right away and that it takes time to find a niche on a campus this big.