Jeff Maggioncalda, CEO Coursera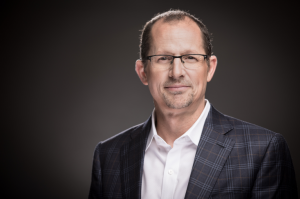 Seven years ago, the University of Michigan came on board as one of the founding partners of Coursera – the first public university on the platform. This pioneering step by U-M paved the way for other institutions to explore online education for global impact. They are a model for how colleges can share knowledge, expand access to quality education and enable anyone, anywhere to transform their lives through learning. 
Today, I want to take a moment to congratulate U-M on yet another milestone – the launch of the Center for Academic Innovation. President Schlissel and Provost Philbert's focused pursuit of equity and inclusivity fueled by innovation is inspiring and audacious. And Coursera has had the privilege of partnering with U-M to deliver on that promise over the past seven years. So far, Michigan has reached nearly 7 million enrollments in 190 countries, opening the university to the world. It has produced 80 open courses and 12 specializations. U-M has gone beyond offering open courses by engaging the global community through a series of Teach-Outs, the open online learning event it created. U-M developed the Teach-Out Academy and has since worked with other partners like Emory University and Leiden University to take the Teach-Out model forward.

Throughout this journey, U-M has been a champion for academic innovation on Coursera. U-M has been a trendsetter in stackable learning. In 2018, Michigan and Coursera co-created the first-ever MasterTrack on Coursera – with portions of Master's programs split into online modules that can be taken individually and count towards a Masters degree. The reach and impact of U-M's Construction Engineering and Management MasterTrack Certificate reinforced what our learners find relevant and useful – in just one year, the MasterTrack class reached twice the size of the on-campus class. U-M has similarly reimagined engagement for its campus and alumni community by offering their courses for free to their faculty, staff, students, and alumni with the Coursera for Partners program. And when Coursera introduced Coursera Labs, an online platform for hands-on learning and projects, U-M once again took the lead in experimenting on the platform, driven by its vision to bring new and innovative experiences to its learners.   
I am really excited about U-M's newest offerings on Coursera – two degree programs that open up access to in-demand skills and credentials on a never-before scale. The top-ranked Masters in Applied Data Science (MADS) is offered by the School of Information, a school which has already seen 1.4 million+ enrollments across six specializations. Two-thirds of the initial interest in this degree has come from outside the US – an indication of the value the program offers students globally. Also, U-M's Master of Public Health from the School of Public Health, among the first degrees in this area of study to be delivered online, is already seeing a much wider reach with the first cohort representing more than 14 states in the US. U-M's deep commitment to open online learning has helped learners from many backgrounds to discover pathways to these world-class degree programs.  
The Center for Academic Innovation is well-positioned to build on U-M's bold thinking and illustrious track record. At Coursera, we are only as innovative as our most innovative partners, and the University of Michigan and its Center for Academic Innovation sets the bar for innovation in higher education. I am inspired by partners like the University of Michigan and truly believe that together we are on the path to making the highest quality learning available to everyone in the world.
—–
Jeff Maggioncalda will also be speaking at an Academic Innovation at Michigan (AIM) Spotlight event on campus on October 10. During this visit, U-M's community of academic innovators and students will have the opportunity to exchange ideas and engage more deeply with Jeff.