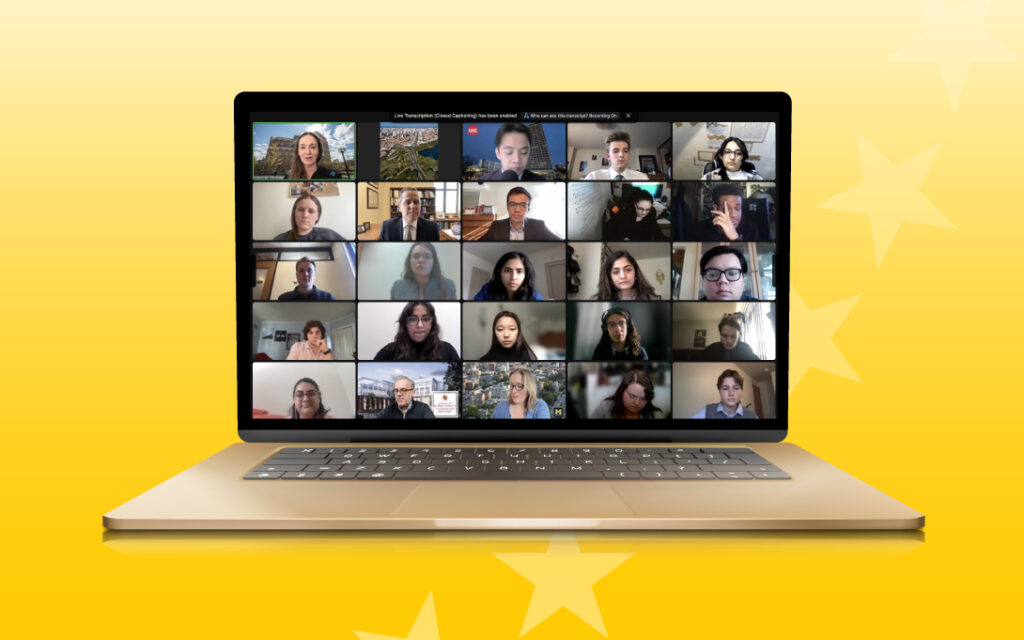 Sean Corp, Content Strategist
Debate teams, Model U.N's and role-playing simulations have been a part of teaching and learning for decades. Technology is now starting to catch up and ViewPoint, the Center for Academic Innovation's simulation software adds a new level of depth, dynamism and modern communication to the equation.
Student groups from all over the Big 10 recently used the ViewPoint platform to pass the Vote at Home Act, which allows all eligible American voters to cast ballots by mail without having to provide a reason.
The simulation event was part of Democracy in the 21st Century, a conferencewide collaboration to develop educational programming and engagement opportunities around civics.
The ViewPoint simulation assigned student groups into four committees, with each playing unique roles as actual U.S. Senators. In the end three of the four committees were able to pass a final compromise bill.
The founder of ViewPoint, who developed the software alongside the Center for Academic Innovation is Elisabeth Gerber, the Jack L. Walker Jr. Collegiate Professor of Public Policy and professor of public policy in the Gerald R. Ford School of Public Policy, and professor of political science in LSA.
Gerber told the University Record that it was important that each participant play their roles as authentically as possible.
"They have to put away their own identities, opinions and perspectives and immerse in the viewpoints of someone else," Gerber said. "Some students played a senator with whom they strongly disagreed on voting access. Others had more similar positions.
"The goal was to help them experience how complicated it is for a bill to become law. There are numerous steps, including consideration by one or more committees, floor votes in both chambers, possibly reconciliation by a conference committee, and being signed by the president."
Students used the ViewPoint software platform to share information about their roles, communicate with other student participants, access resources and cast their votes for the simulation.
"This exercise has been a great opportunity for students to connect across the Big Ten and develop a richer understanding of different perspectives as they engage in the give and take of the legislative process," Robert Orr, dean of the University of Maryland School of Public Policy told the Record. "These are key objectives of the 21st Century Democracy Collaboration, and we're grateful to all the students and faculty who contributed to this important work."