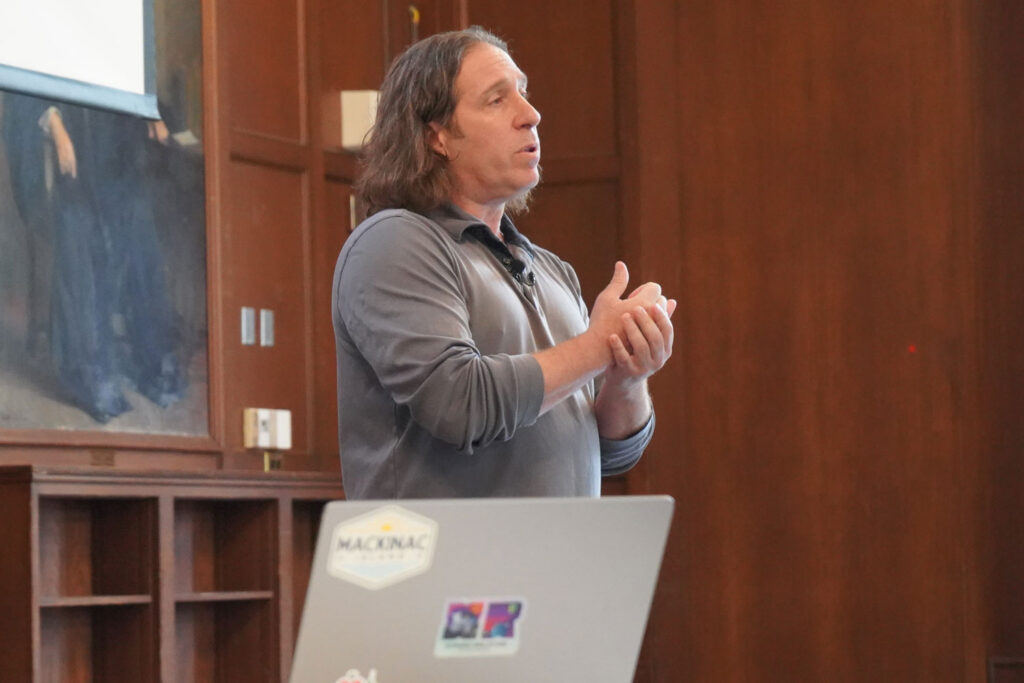 Sean Corp, Content Strategist
Jeremy Bailenson has spent his entire career thinking big. He has tackled big challenges and asked big questions during his 25-year career studying virtual reality and how people respond and behave when exploring virtual spaces. His latest project is perhaps the biggest yet, serving as one of the consultants to the Madison Square Garden Company on its $2.3 billion Sphere in Las Vegas, which stands more than 300 feet tall and 500 feet wide.
However, when discussing making the most impactful learning experiences using extended reality technologies like virtual and augmented realities, he encourages folks to think small. To think short. To think about the most important moments in their lives, and how precious those moments felt.
The Moments that Matter
"Most of the experiences that make you who you are today, when you think about them, are short," Bailenson told the assembled crowd at the Michigan Union for an Innovation Insights talk hosted by the Center for Academic Innovation. "VR is an experience generator, and there is no reason they shouldn't be short too." 
Unfortunately, too many people working in the VR space are too focused on spectacle, on having it involved in every facet of our day as a way to prove its worth, that they often miss sight of the fact that when VR is at its best, it is in service of short experiences for unique tasks.
"I don't think we should be using VR to check our emails in the morning," Bailenson said.
That is why at his Virtual Human Interaction Lab at Stanford University, he instituted a 30-minute rule. After 30 minutes of wearing a virtual headset, there is a rule to stop the experience, take the headset off, reorient yourself to the real world through tactile objects that you can hold or touch, and get a drink.
The kind of experience matters just as much, said Bailenson, who graduated from the University of Michigan in 1994 with a degree in cognitive science. Despite being a researcher and user of VR for more than two decades, his talk focused just as much on when not to use VR as it did exploring the latest use cases and promising research. 
The DICE Framework
He outlined what he calls his DICE framework for evaluating potential VR experiences. Those immersive opportunities are best suited for those that would be Dangerous, Impossible, Counterproductive or Expensive. Dangerous as in too dangerous to experience in real life. Impossible as in exploring a space no human can realistically experience. Counterproductive, using the example of how conservationists could use VR to train those to understand environmental impacts by showing the personal destruction of an ecosystem in a virtual setting, or expensive as in the potential cost of virtual training for large organizations compared to the greater costs of delivering the same training in person.
That training is conducted via the STRIVR platform co-founded by Bailenson, and is also the source of what has made him proudest in his long career.
After a man killed 23 at a Walmart in El Paso, Texas in 2019, the CEO of Walmart praised the use of active shooter training using virtual reality technology that allowed Walmart associates to prevent even more needless deaths.
"Because the management team [in El Paso] acted so fast and engaged other associates and executed the plan, we all feel very confident that lives were saved and seconds were gained," Walmart CEO Doug McMillon told Fortune magazine.
While Bailenson emphasized the need for restraint when thinking about the best uses of VR, the good news, he told the assembled crowd, was that the U-M community had one of the nation's best resources in the use of extended reality technology in teaching and learning. Work that includes years of research on best practices and accessibility, and work in building XR experiences for residential and online learners  via the XR Initiative and the Center for Academic Innovation.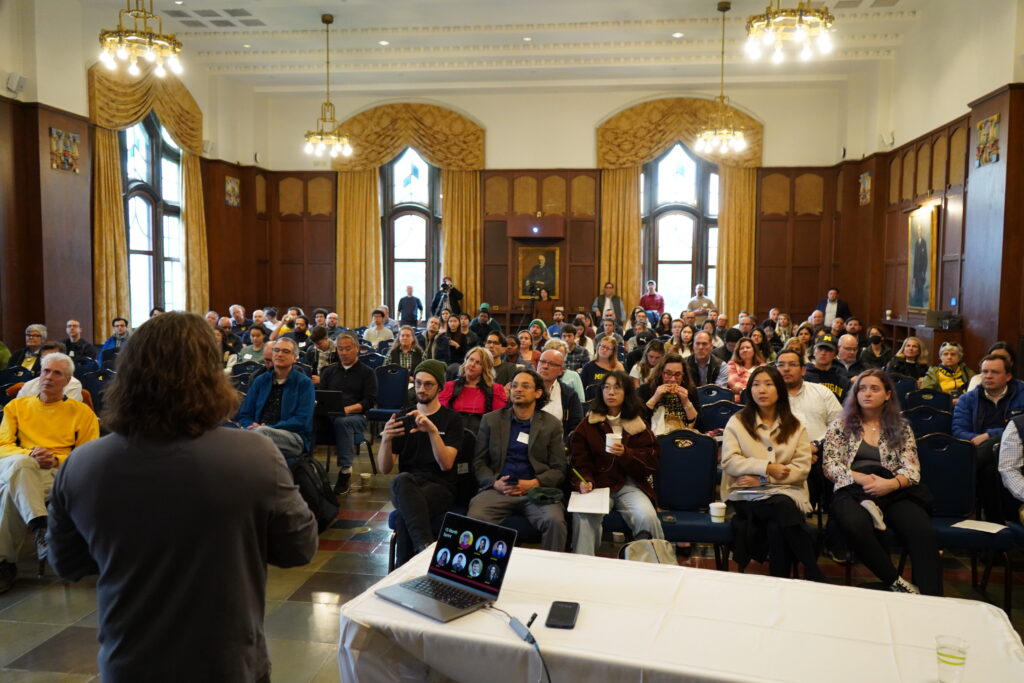 Exciting Research Continues to Emerge
During his talk, Bailenson also discussed research on virtual reality addiction, simulator sickness, the reality blurring effect of VR technology, its use in educational settings, how groups bond in virtual spaces, how it can help individuals build empathy for others, and how young children are psychologically impacted by virtual reality experiences.
Again, Bailenson reiterated, for this technology to take that next step, it is about those short impactful experiences. And for experiences to have an even greater impact, it is just as important to consider when you shouldn't use VR as when you should.
"VR is not the next smartphone, even if some in the industry disagree with me," Bailenson said. "The experience should be minutes not hours, but that doesn't mean that experience can't be special. VR is a transportation machine. It can create or recreate one of a kind experiences. A little bit of VR goes a long way, and even a short experience can have a profound impact."