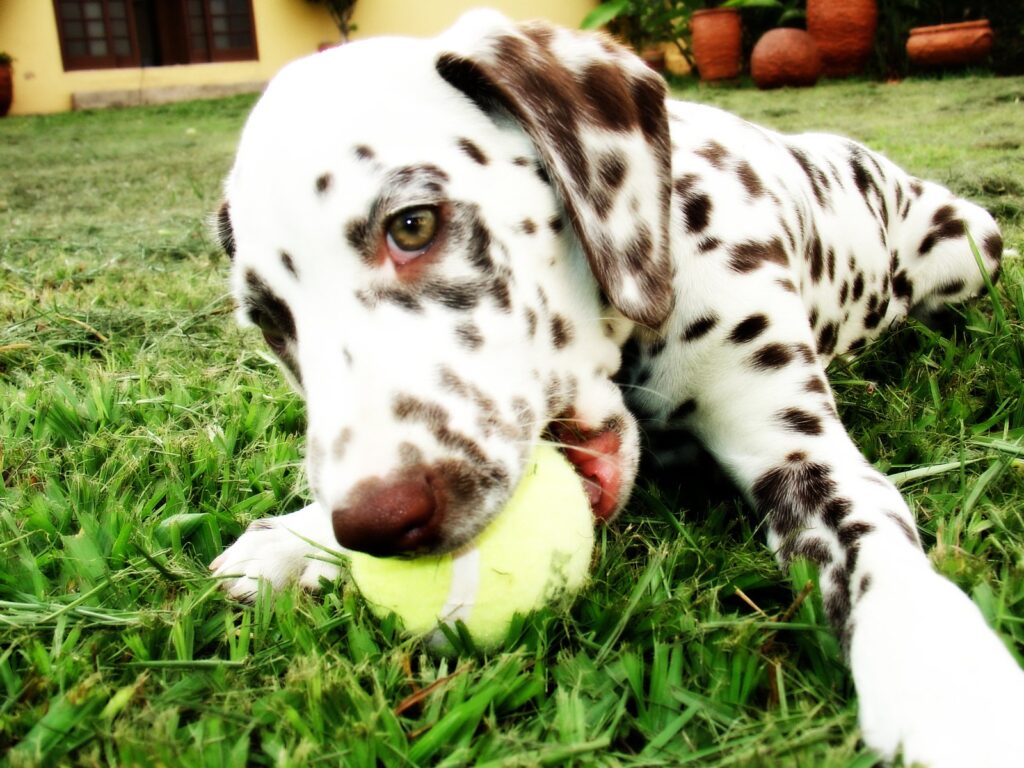 'COVID-19: Processing the Pandemic Teach-Out' brings leading experts to help people — and their pets too — deal with what comes next
Sean Corp, Content Strategist
The world is opening up again as more populations have the opportunity to get vaccinated from COVID-19 and that raises an important question — what happens next? The new Teach-Out "COVID-19: Processing the Pandemic" offered by the University of Michigan Center for Academic Innovation provides a forum for people wrestling with difficult decisions as they face an uncertain, new normal.
This is also an important question for pet owners and pets themselves as millions of people go from largely working or being at home with their pets regularly to a situation where they could be separated from their pets for several hours each day.
Just like people, pets have gotten used to this comfortable work arrangement and could have trouble adjusting. While the Teach-Out features videos and readings from top psychologists, researchers, health professionals and more on how people will adapt to the new normal, it also offers information on leaving your pets at home and features videos from professional dog trainer JC Adams.
Adams, a trainer based in Michigan, offers tips on re-establishing or, if you got a new pet for the first time during the pandemic, establishing routines for alone time.
"It's a good idea to start this process while you're still at home or, if you're already working, when you're home on the weekends," Adams said.
Enroll | COVID-19: Processing the Pandemic Teach-Out
If your pet is struggling with separation from you, Adams said, focus on how long your dog could successfully be alone or in a crate, even if it's just 30 minutes and build off of that. Set a timer on your phone to check in with the pet after 20-25 minutes to help calm them and then work on extending that time.
Adams also outlines in the Teach-Out some fundamental training techniques you can use to help your pet get acclimated to the outside world and the additional people and other distractions it might meet along the way.
Engage-Disengage Training Game
Adams details the Engage-Disengage game you can play with your pet. This game is a training game for dogs to decrease fear or anxiety around certain triggers and teach them safe, appropriate behaviors. The game works best with high-value treats — chicken, hot dog slices or something your dog loves — a harness, and a clicker.
The game is outlined in an infographic from Clicker Training: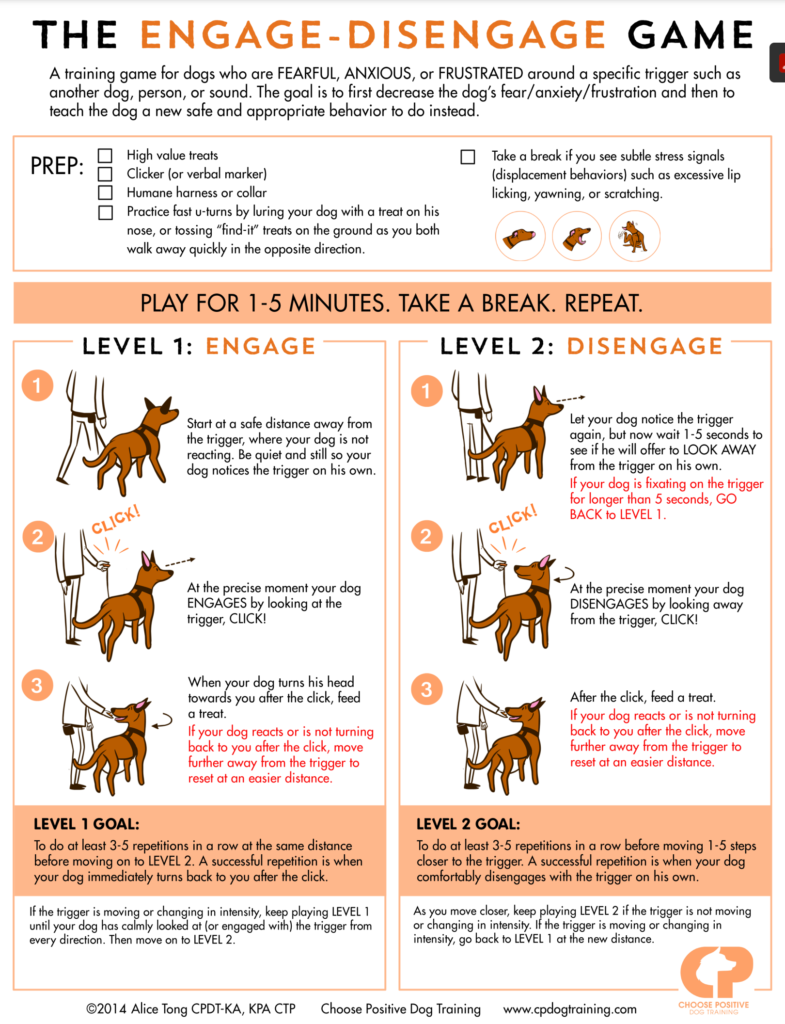 7 Steps to Help Your Pet Prepare for Your Return to Work
Another helpful resource is available from the American Veterinary Medical Association outlining seven steps pet owners can take to help prepare for your return to work:
Slowly introduce workday routines—Schedule waking up, feeding and walking as you might for your expected workday routine, then introduce a consistent departure schedule that builds on that routine.
Take anxiety out of your departure—Practice short departures on a daily basis and gradually extend the time you are gone. Give a small treat just as you walk out the door to condition the pet to find it rewarding when you leave. If signs of anxiety—such as destructive activity—occur, do not punish the pet. Instead, shorten the time away and slowly build up to longer periods. Stay calm when leaving or returning home.
Exercise—Before leaving, engage in play and activity. Burning energy can help keep pets calm and relaxed. While the risk of pets becoming infected is believed to be low, as a precaution, if you intend to have a dog walker or send your pet to daycare while at work, treat your pet as you would a human family member to protect them from possible infection with COVID-19. This means limiting contact between your pets and people outside your household as much as possible. Follow protocols put into place by the daycare and do not use these options if you or your pets are sick. Keep cats indoors if possible. Do not put face coverings on pets and do not wipe or bathe your pet with chemical disinfectants, alcohol, hydrogen peroxide or any other products not approved for animal use.
Keep them engaged—Long-lasting treats, food puzzles, and automatic feeders can help keep pets occupied during the day while you're out.
Create a safe space—If you have typically used a crate when you were gone but haven't been crating your dog while at home, now is a good time to either explore not using a crate while you are away (gradually increasing the length of time you are away) or reintroduce crating while still working from home by making it rewarding for the dog to go into the crate for short periods of time.
Look for signs of stress—Excessive barking or whining, agitation, destructive behavior and inappropriate urination/defecation can all be signs of stress. If you are concerned, consider filming your pets when you leave so you can better observe them and share the video with your veterinarian.
Talk to your veterinarian—Concerns about behavior, stress and wellbeing may require a consultation with a veterinary behaviorist and/or medical intervention.