Melissa McCurry, Design Management Fellow
I had the opportunity to attend the Extended Reality (XR) Access Symposium in early June. At this conference, I heard from XR innovators in industry and academia discussing how to make experiences accessible for individuals with disabilities. During one of the deep dive sessions, I attended a panel consisting of Jeremy Nelson, Rebecca Quintana, Pam Saca, and Jacob Fortman from the University of Michigan's Center for Academic Innovation, as they presented on how to design accessible and inclusive XR experiences for massive open online courses (MOOCs). They were joined by U-M professors Anhong Guo and Michael Nebeling, who discussed some of their innovative work using augmented reality (AR) to enhance learning experiences.
As a graduate student who is passionate about the topic of XR for educational purposes, I found the U-M panel to be helpful in conceptualizing how XR may look in online educational spaces. The panel also provided me with valuable insight on how we can work to create experiences that can be accessed by a wider range of learners with unique abilities, needs, and learning preferences. I am excited to continue following all of the innovative ways XR is being used here at U-M.
Below is a rundown of what each panelist discussed during their presentation.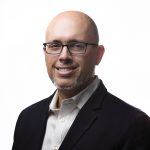 Jeremy Nelson is the director of the XR Initiative at the center. As a part of the XR Initiative, CAI will be integrating XR into 10 courses on Michigan Online in partnership with Coursera. The courses will use a variety of tools to foster learner engagement with the course content (e.g., interactive 360 video and mobile AR).
Throughout the presentation, Jeremy served as moderator and encouraged participants to think critically about the ways in which we will use extended reality in online educational spaces. It is critical that we address the accessibility challenges that may arise as a result of XR implementation.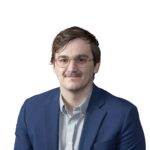 Jacob Fortman, learning experience designer and graduate certificate coordinator at the center, highlighted the importance of using pedagogical frameworks and best practices to inform the design of XR-integrated courses (e.g., the development of learner personas and actionable learning goals).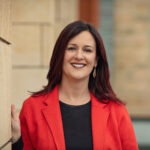 Rebecca Quintana, associate director of learning experience design at the center and lecturer at the School of Education, is one of the faculty members integrating XR into her upcoming MOOC series on learning experience design. During her deep dive, Rebecca discussed the importance of using the universal design for learning (UDL) framework and addressing issues of inequity during the design process. She also explored the ways in which they can use prior knowledge and experience from her graduate level course, XR for Learning, to improve upon the XR experiences in the upcoming online series.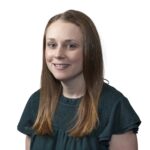 Pam Saca, learning experience designer for accessibility, discussed the issues of accessibility that come along with integrating XR into online learning. Pam noted some of the specific steps we can take to improve accessibility during the design process (e.g., following the web content accessibility guidelines). Pam also emphasized the issue of access – as not everyone has access to XR hardware – so it is important to create web-based alternatives for learners.
After the CAI team's deep dive into the possibilities of using XR in online courses, the panel then shifted to assistant professors Guo and Nebeling.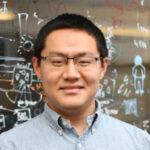 Anhong Guo is an assistant professor in computer science and engineering and the director of Human-AI Lab (HAIL). Anhong discussed some of the exciting mobile AR applications that his team has been researching and how accessibility software can be used to improve virtual experiences for individuals with disabilities. For example, Anhong showed off OmniScribe, an application that provides audio transcription in 360 degree virtual scenes so that users with a visual impairment can feel a sense of immersion.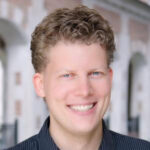 Michael Nebeling is an assistant professor at the School of Information and the XR Faculty Innovator-in-Residence at CAI. He discussed the importance of using a balance between real world mediums and virtual mediums to improve the learning experience for both instructors and learners. For example, he highlighted the Paper Trail project, created with UMSI PhD student Shwetha Rajaram, that uses a mixture of augmented reality and paper (i.e., mixed reality). Michael also notes throughout the presentation that it is important to use XR in ways that are meaningful rather than using XR simply because the technology is new or interesting.