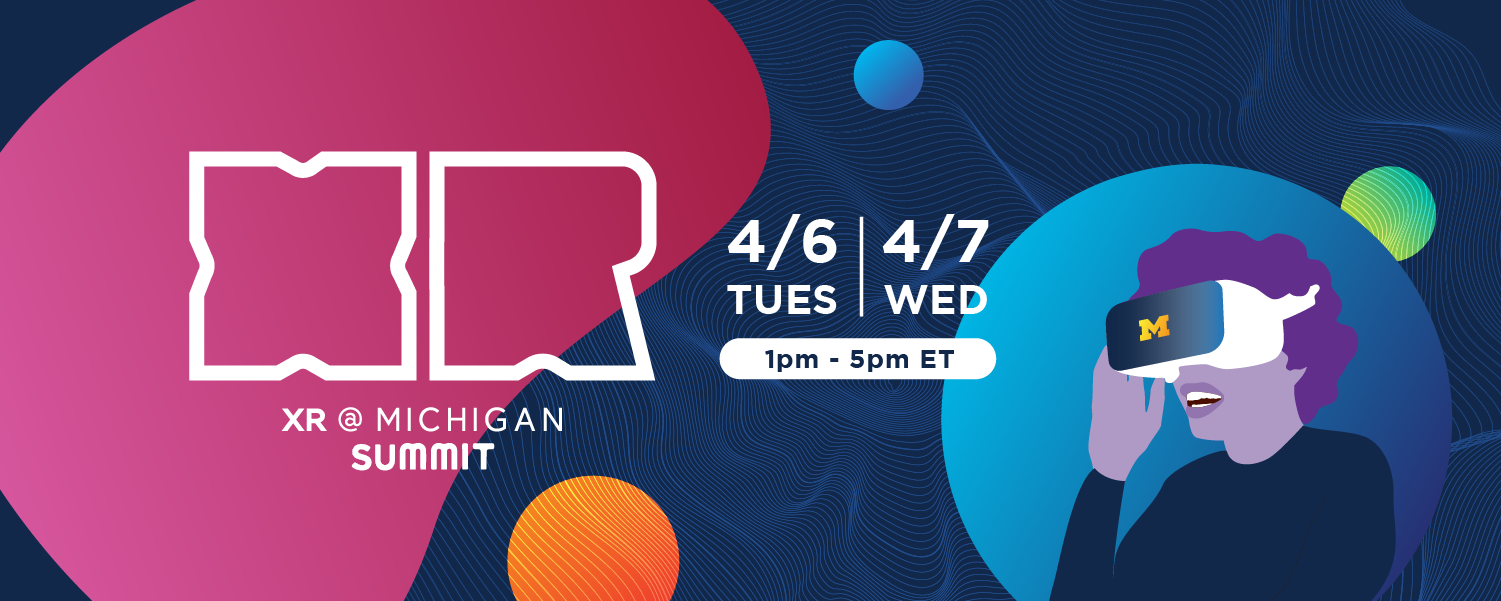 View recordings of the featured panels and conversations that made up the first XR@Michigan Summit
Jeremy Nelson, Director of XR Initiative
A virtual audience from all over the globe came together to hear from industry leaders and innovators talk about how extended reality technology is transforming their work at the first XR@Michigan Summit, organized by University of Michigan's Extended Reality (XR) Initiative within the Center for Academic Innovation. The two-day virtual conference held in early April featured speakers talking about research, pedagogy and business solutions around XR tech, including how technologies are and can be used in higher education.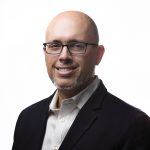 More than 600 people attended the live virtual sessions and many more are expected to access the materials in the subsequent days. In all, 1,500 people from 97 countries registered to hear about the latest development in XR technologies.
The event also featured a networking opportunity in AltspaceVR with people gathering on a digital twin of the University of Michigan's iconic Diag. The diag was recreated in virtual space by two XR student fellows.
The conference was highlighted by a keynote conversation with Jeremy Bailenson, the founding director of Stanford University's Virtual Human Interaction Lab. Bailenson's lab works to better understand the psychological and behavioral effects of virtual reality.
Featured panels included executives from Walt Disney Studios, HP and Microsoft on how their businesses utilize the latest in virtual, augmented, and mixed reality technologies. Faculty innovators at University of Michigan who work with the XR Initiative to bring virtual reality technology into their classrooms including a team from the Medical School and School of Nursing, and faculty from LSA, School of Education, Taubman College of Architecture and Urban planning, College of Engineering and the School of Music, Theatre & Dance. A student showcase exhibition was held where attendees could see their work and interact with the students live.
Below, you can see all the featured sessions and panels during the XR@Michigan Summit.
XR@Michigan Summit
Day 1
Day 2
---

Welcome and XR Initiative Introduction
Alan Smithson, co-founder and CMO for MetaVRse, and I hosted the event and welcomed our guests with an overview of XR and an introduction to the XR Initiative at the University of Michigan. In this segment, we lay the foundation and rationale for hosting this event and what our goals for the attendees are.
---
Fireside chat with Professor Jeremy Bailenson, Founding Director of Stanford University's Virtual Human Interaction Lab
Our keynote session featured a thought-provoking and inspiring conversation with Professor Jeremy Bailenson. Professor Bailenson has been doing research in virtual reality for more than 20 years and has one of the foremost labs in the world studying human interactions in virtual spaces. We discussed the role of XR in higher education covering a wide range of topics from access and equity to developing critical perspectives on XR to novel educational applications of XR. Finally, we discussed the future opportunities for XR in education. I thoroughly enjoyed my conversation with Professor Bailenson and look forward to continued discussions and collaborations.
---
U-M School of Nursing and Medical School Faculty Panel
The interest in and application of XR technologies across the healthcare spectrum at the University of Michigan has been amazing. In this panel, we hear from Dr. Mark Cohen, Michelle Aebersold PhD, RN, medical student Michelle Benedict, and Dr. Prashant Mahajan about how they are using XR technologies for training medical and nursing students. We also hear about the creation of the Center for Medical and Surgical XR that was created to foster the engagement and development of medical extended reality technologies at U-M for the advancement of education, research, clinical care, and medical innovation. We also hear about the collaborative work with colleagues at the Imperial College of London and the world's first International Mixed Reality Grand Rounds.
---
XR and Higher Education from HP
Joanna Popper, the global head of virtual reality for location-based entertainment at HP, presented on how HP has been working with higher education institutions to bring VR for teaching and learning. Joanna shared all of the great work being done by HP to power VR experiences at places like Colorado State University. She also spoke about the new HP Reverb G2 Omnicept which will do face and mouth tracking as well as cognitive load analysis. This will create a lot of unique opportunities for us to explore how students learn in VR and what types of interactions and affordances are more effective for specific learning goals and objectives.
---
Virtual Networking Reception in AltspaceVR
Day 1 of the XR@Michigan 2021 Summit concluded with an amazing networking event on a 3D rendering of U-M's diag in AltspaceVR. Two of our XR Student Fellows, George Castle and Nick Di Donato, recreated the diag and optimized it for AltspaceVR. We had more than 200 people attend and 90 simultaneously from all parts of the world. I met people from Jordan, Ecuador, Hong Kong and India, and some U-M students who haven't set foot on campus yet because of COVID who said this was the first time they were on "campus." It was such a unique experience, and we are grateful for Educators in VR for their support in setting up and moderating the event. We look to use this space for future meet-ups and events.
---
XR @ Disney
Day 2 started off with a fascinating presentation by Mark Mine, the Director of the Technology Innovation Group at the Walt Disney Studios. Mark is a U-M alum and was joined on stage with Dr. Michael Nebeling to discuss how Disney has been using XR over the last 30 years. Mark has been at the forefront of these technologies and led the way in pushing how a company like Disney could use AR and VR for ride design, consumer entertainment, prototyping, and now using VR to bring people into the story. I really enjoyed the conversation between Mark and Michael, and I can't wait to see what Disney does in the future to use XR to bring more people to Disney.
---
U-M Digital Studies & Humanities Panel
In this panel, we feature a group of leading U-M faculty who have been teaching with and about XR technologies in the humanities and digital studies fields. Professors Rebecca Quintana, Yvette Granata, Chris Quintana, and Matthew Solomon share their experiences as faculty around what it is like to use these technologies. It was fascinating to hear about the differences and similarities between the types of social engagements in and out of VR, and what it is like for students to become creators and use digital tools to contribute to learning experiences. Yvette shared the work of her students creating snapchat filters to explore representation and identity while Matthew talked about his Citizen Kane VR project that allows students to go into VR and reshoot the last scene of the classic movie Citizen Kane.
---
U-M XR Design & Engineering Panel
Alan Smithson facilitated another U-M faculty panel that featured faculty from Architecture, Engineering, School of Music, Theater, and Dance, as well as one of our XR Learning Experience Designers. Professors Joanna Millunchick, Anıl Çamcı, Jonathan Rule along with Shaulanda Reeves shared insights into how they are exploring and utilizing XR technologies to embody more spatial experiences. The group discussed some of the bespoke applications the XR Initiative is building to support learning for construction architecture, how VR can provide new pathways for crystallography, and how to design spatial audio experiences. Shalaunda provided insights on how we work with faculty to help shape those ideas and use the XR technology to create impactful learning goals and where best to deploy the right technologies.
---

Mixed Reality Academy from Microsoft
As our platinum sponsor, Microsoft has partnered with the U-M over the last few years to help us explore mixed reality technologies such as the HoloLens 1 and HoloLens 2. We were excited to have Nick Klingensmith join us to talk about the Mixed Reality Academy and all of the tools Microsoft has created to help developers build applications and experiences. Nick shared Microsoft's vision for Mixed Reality and the ecosystem that they are creating to help creators and consumers experience the spatial world. Dr. Michael Nebeling talked with Nick to learn more about the platforms and support available for designers and developers looking to create new applications. Nick provided a teaser of the new Microsoft Mesh platform and what the future will hold.
U-M Student Showcase
One of the key goals of the XR@Michigan Summit was to showcase the work of U-M students across all schools and colleges. We had 16 student showcase exhibits ranging from the work of our XR Initiative Design Fellows to student projects focusing on why we sleep, riding in a hot air balloon, to using AR glasses to explore nature. We had more than 170 attendees visit our student booths, and we plan to make them available on the XR Initiative website for everyone to enjoy. Attendees were able to speak with some of the students live to ask questions about their work and learn more about their experiences.
---
Closing Remarks
Our main goals with the XR@Michigan Summit were to bring more awareness to the U-M community about what XR is and share with the world what faculty at Michigan are doing to shape the future of education with XR technologies. I am proud of all the work that our XR Initiative team and XR Student Fellows have done to help make all of this possible and we couldn't have done it without them. There was a level of engagement and community that I haven't seen before in virtual conferences and I was so happy with the diverse group of attendees from across the world. We plan to make this summit an annual event and will look to create opportunities to continue the conversation in between.