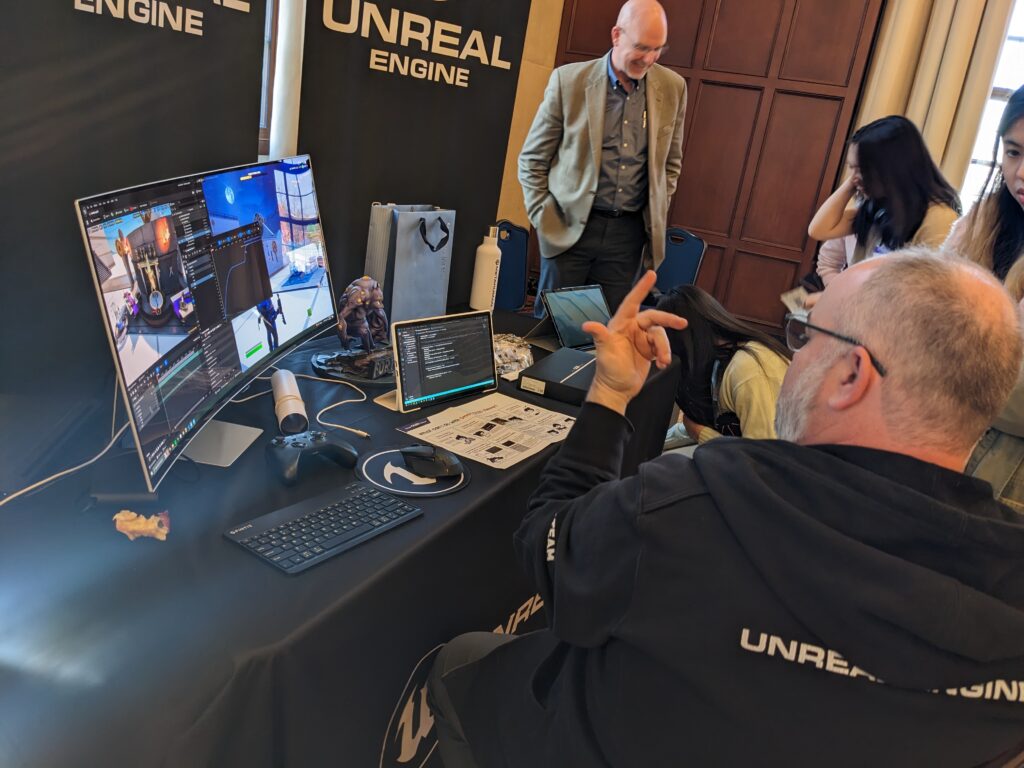 Sean Corp, Content Strategist
Metahumans, digital twins, interactive video and virtual, mixed and augmented reality – the power and potential of extended reality in education is exciting. However, to deliver equitable and impactful immersive experiences at scale, consideration must be given to cost, scalability, accessibility, and representation. To see innovations continue, leaders and educators must foster curiosity and a sense of fun for students to engage with this important space. Those were some of the core messages shared at the XR at Michigan Summit held at the Michigan Union by the Center for Academic Innovation.
The Center for Academic Innovation has led the way for years as a collaborator, a funder, and also a convener in the extended reality field. Through its XR initiative, the center has funded 29 projects from 17 of U-M's schools and colleges. 
To keep that sense of inspiration and enthusiasm going within the field, it is also important to bring people together, said Jeremy Nelson, senior director of XR, media design and production at the center.
The center hosted its third annual XR at Michigan Summit, bringing more than 300 students, faculty, industry leaders, and innovators to the Michigan Union to explore the future of extended reality in education.
The two-day event featured talks from the leading practitioners of virtual, mixed and augmented reality in both education and industry. There was also a vendor showcase featuring companies including Microsoft, Accenture, SimX, Oxford Medical Simulation and Ann Arbor SPARK. Attendees put on headsets and grabbed controllers to experience the latest in XR technology.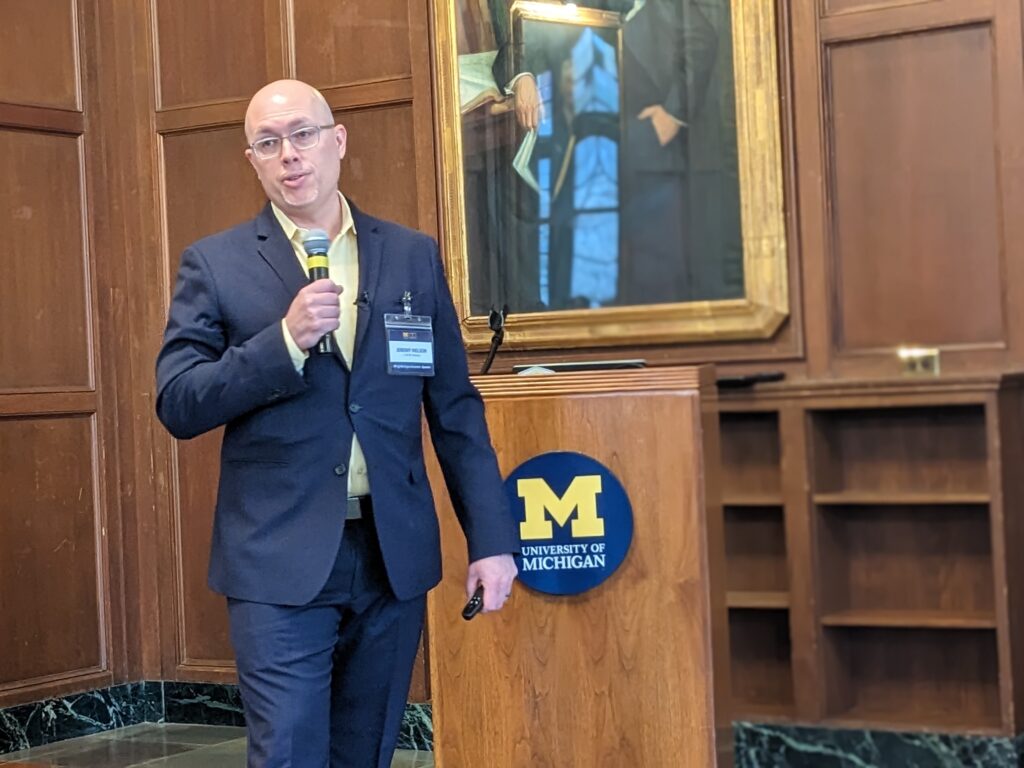 "There is a committed community that is working in this space and interested in the potential of XR in education," said Nelson. "They also know the difficulty in bringing these experiences to life in a way that is meaningful for an educator and for a learner. To have a chance to hear from some of the brightest minds in higher education and industry is always exciting."
The speakers included a keynote address from Microsoft's April Speight, who spoke about her work creating inclusive and diverse learning experiences, as well as the importance of intentional outreach to underrepresented communities to increase representation in the creation of XR.
"It can be painful to want to use these systems and not see yourself represented," Speight said.
She recalled her journey as a younger Black woman in a largely white male dominated space. "Many of the rooms I entered, not many people looked like me," she said. "But XR is for everybody. We want to make sure we are creating experiences that can be enjoyed by everybody."
Other speakers featured at the Summit included Daniel Salcedo, director of simulation technology at Case Western Reserve University who spoke about his career making XR ideas a reality in a university setting. Pippa Bostock, director of development, engagement and marketing at Mary Rose Trust, spoke about her work on virtual learning experiences with some of the top museums and artistic venues around the world.
Justin Berry of Yale University and Maya Georgieva of the New School spoke about the challenges of nurturing the next generation of XR creators, and the importance of never losing sight of the sense of fun, exploration, and play at the heart of creative endeavors.
"The tools will change every day of every week … for however long we keep making these things," Berry said. "Students need to learn a love for the kinds of things they can do with these tools so they will be invested in continuing their training and learning the next set of tools."
The event also featured faculty innovators at University of Michigan, including those incorporating XR into courses and training programs, and teaching students how to use and create XR experiences.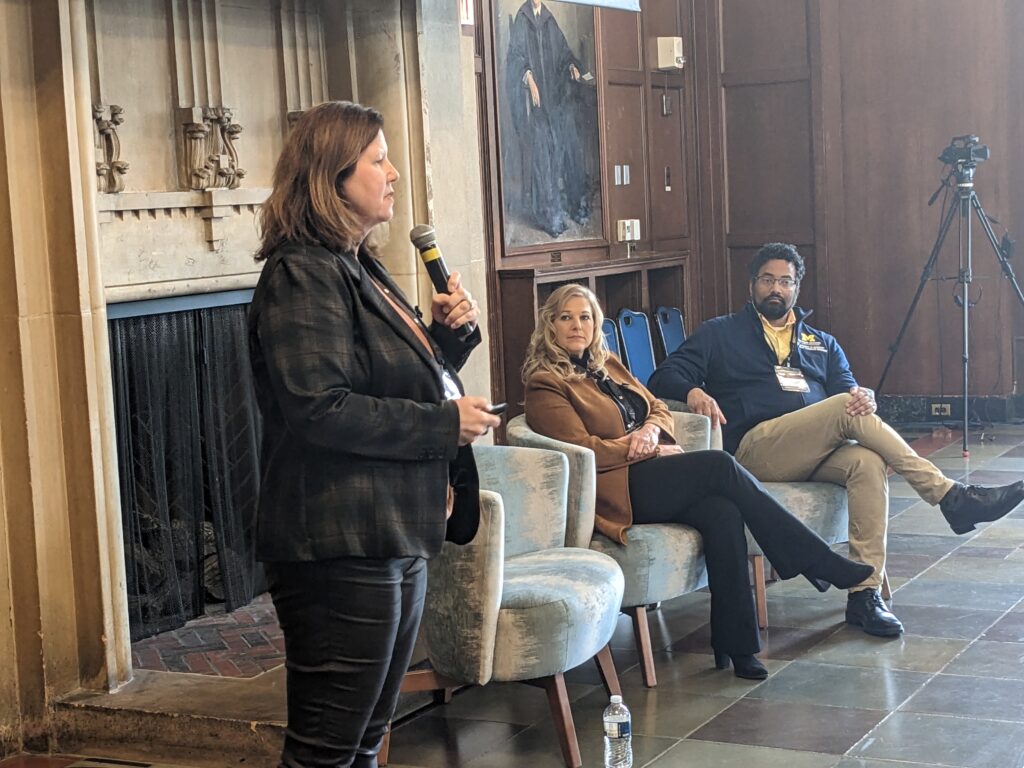 Michelle Aebersold of the School of Nursing and School of Information, Deb Lee of the School of Nursing, and Dr. Rishindra Reddy of Michigan Medicine, discussed their work utilizing virtual and augmented reality to clinical settings for education and evaluation purposes.
The future plans for XR on U-M's campus were also revealed, as Nelson discussed upcoming XR-enhanced experiences in the open online learning space, the ability to create new levels of immersive learning experiences through a new virtual production studio, and making impactful virtual experiences more accessible to users around the globe.
Nelson highlighted the center's work on "1,000 Cut Journey," an immersive virtual reality experience where users experience what it is like at various stages of a Black man's life. Developed by Courtney Cogburn of Columbia and Jeremy Bailenson of Stanford, it could previously only be experienced by request. Center for Academic Innovation staff at U-M collaborated with Cogburn and Bailenson to recreate the experience using Unreal Engine and making it available in the Oculus Store. Final approvals on the project are still pending, but should be available soon, Nelson said.
Nelson also discussed ongoing work, including creating XR-enhanced experiences for 10 online courses available on Coursera. Finally, Nelson also discussed the campus's virtual production studio, which will be used for the development of online courses to provide a new level of immersive learning.
"The work to make the XR Initiative as successful as it has been really belongs to the U-M faculty, the center's XR Team, and our XR Student Fellows. The future of XR at Michigan is very exciting and we can't wait to see what our XR stage will do for the future of education and online learning"
XR at Michigan Summit 2023 Presentations
Welcome & Introduction
Jeremy Nelson, senior director of XR, media design and production, Center for Academic Innovation, University of Michigan
Jeremy Nelson welcomes in-person and livestream attendees to the XR at Michigan Summit 2023 at the University of Michigan. Nelson discusses the university's latest advancements in XR in education, and what those in attendance can look forward to during the two-day XR Summit.
Creating Inclusive and Diverse Learning Spaces with XR Technology
April Speight, Microsoft
April Speight delivers the keynote address about the importance of creating XR experiences that are accessible and reflective of the lived experience of all users.
Building the Educational XR Center of the Future
Pippa Bostock, Mary Rose Trust
Pippa Bostock, director of development, engagement and marketing at Mary Rose Trust, discusses her career developing unique XR experiences and leading centers of creativity and technology.
Healthcare Innovation in Extended Reality
Michelle Aebersold, School of Nursing, School of Information; Deb Lee, School of Nursing; Rishindra Reddy, Michigan Medicine, University of Michigan
Michelle Aebersold and Deb Lee from the College of Nursing and Rishi Reddy from Michigan Medicine talk about their experiences using extended reality technologies to support healthcare education and delivery.
Exploring & Developing XR in Higher Education
Rob Theriault, Georgian College
Rob Theriault, Georgian College, has helped create and manage several extended reality projects in higher education during his career and shares his insights on how to create sustainable XR programs.
How Far Have We Come with XR?
Jeremy Nelson and Michael Nebeling, College of Engineering and School of Information, University of Michigan
Jeremy Nelson is joined by Michael Nebeling, XR Innovator in Residence at the center and a professor in the School of Information. The two discuss industry trends, Nebeling's research, and reflect on a career innovating in the XR space.
What the Heck is a MetaHuman?
Ray Majewski, XR environmental artist, Center for Academic Innovation, University of Michigan
Ray Majewski, an environmental artist at the Center for Academic Innovation talks about his work building worlds and people in virtual spaces. He spoke about creating metahumans as part of the XR at Michigan Summit 2023 at the University of Michigan.
Virtual Production
Michael Al-Far, MalfMedia
Michael Al-Far, a pioneer of virtual production, talks about the virtual production process. Michael discusses his work on virtual production for film and broadcast and looking ahead to where the technology and its applications are going.
How Human is That Avatar? Generative AI and the Metaverse
Cortney Harding, Friends with Holograms
Cortney Harding talks about how the metaverse can play a role in creating better and more accepting communities. Cortney, founder of Friends with Holograms, created VR training pieces on child abuse, workplace exclusion, mental health, Black maternal mortality, and racial bias for leading companies. She talks about combining emerging technologies to make people's lives better and easier.