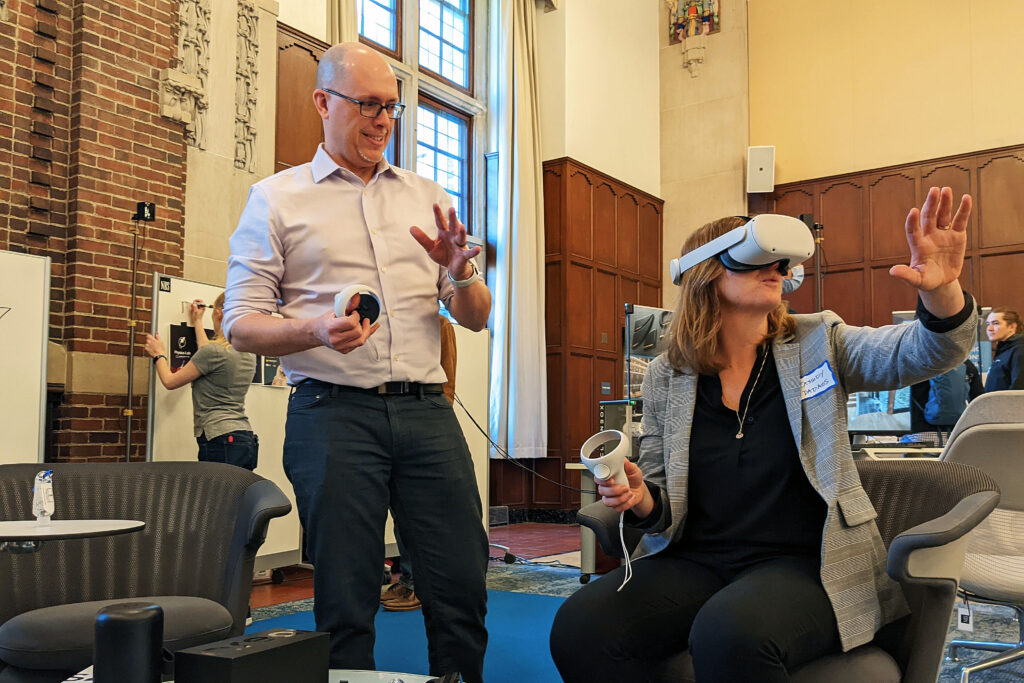 Sean Corp, Content Strategists
Hundreds of learners around the world, including many students and faculty at the University of Michigan, saw how U-M educators, innovators and partners are using extended reality technology to deliver immersive education at the XR @ Michigan 2022 Summit. Those learners engaged with these educators in various formats — virtually, remotely, and in person on U-M's campus.
The XR @ Michigan 2022 Summit showcased presentations and conversations among faculty innovators and staff who have worked with the university's Center for Academic Innovation and the XR Initiative to embrace the potential of mixed, augmented and virtual reality in their classrooms, training programs and research.
"It's about how people can come together across time and space and collaborate," said Microsoft's Jeremy Schreiber, keynote speaker on Day 1 of the Summit. Schreiber, a director in the company's mixed reality product group, spoke about the company's belief and investment in extended reality technologies.
"We really believe this is the next major evolution in computing," Schreiber said.
During Day 1 of the Summit, Schreiber spoke where a worldwide audience could log in and see presentations from a series of U-M faculty on their experiences using mixed, augmented and virtual reality in their classrooms. Day 2 allowed those near U-M's Ann Arbor campus an opportunity to try out the technologies firsthand at a vendor showcase.
The vendor showcase featured chances to explore the work U-M's School of Nursing is doing with skills training using the HoloLens 2. Those in attendance could also learn more about how WideAwake VR uses VR for distraction to reduce the need for pain medication in the hospital. People could also play a multi-player VR game from Dreamgate.
Additionally, a U-M Student XR showcase featured students from across the university who have created XR projects as part of their studies. Students were able to submit their projects for a chance to win a Meta Quest 2 VR headset. Students demonstrated 20 projects and the winners were:
Best User Experience Design
Best Environment Design

Multiverse Gallery – Renwei Liu, (Taubman College), Chen Huang (Taubman College), Haoyu Zhou (Taubman College)

Best Interaction Design

Road of Ride – Yipeng Lin (School of Information) and Jinyi Yu (School of Information)
"This was our 2nd annual XR @ Michigan Summit, and it exceeded all of our expectations. We featured the work of our team, our students, and our faculty these past two years. We showed how we are pushing the limits of XR for teaching and learning," said Jeremy Nelson, director of the XR Initiative at the Center for Academic Innovation. "We had about 500 people attend the in-person event where so many people were able to try XR for the first time and begin to see the possibility of how this technology can transform education."
Microsoft was the premier sponsor of the Summit, with additional support provided by HP and Ann Arbor Spark.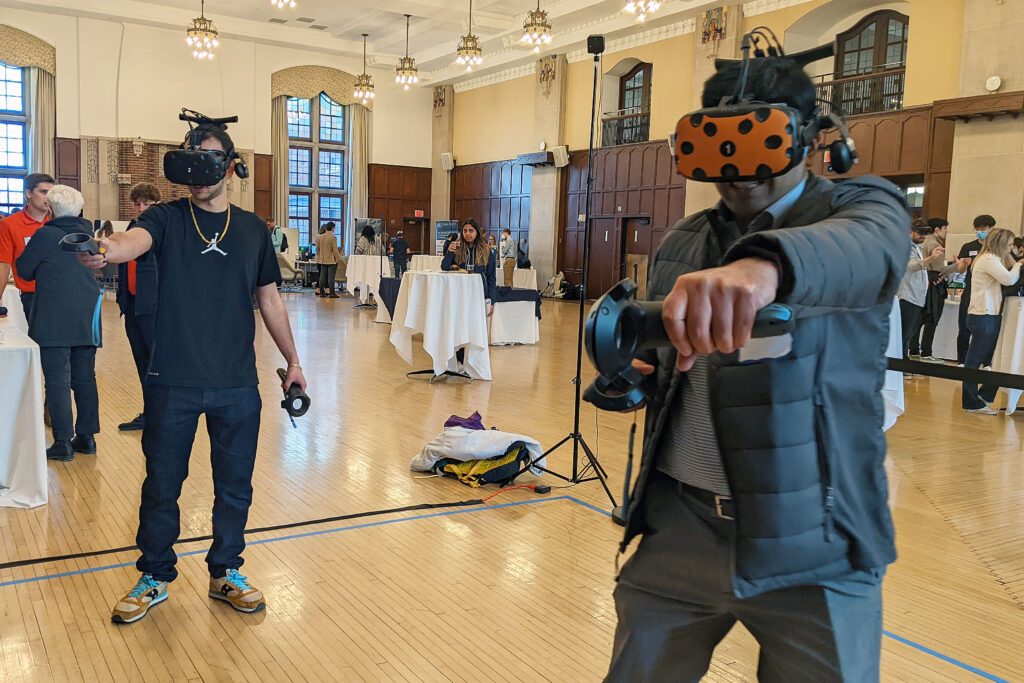 Nelson discussed many of the 24 funded XR projects representing 11 of U-M's 19 schools and colleges. He also highlighted the integral contributions of student fellows. Thirty-six fellows representing schools such as the School of Music, Theatre & Dance, LSA, Ross School of Business, Engineering and Architecture and Urban Planning have worked at the Center and built extended reality experiences alongside faculty.
Highlights include the virtual U-M campus where schools can hold social events and classes and the virtual recreation of the Ford Nuclear Reactor to help train students. "Under the Skin" is a project from the School of Nursing that helps students understand how to better administer chemotherapy treatments by seeing a virtual representation of what happens inside the body.
Day 1 ended with the announcement of a collaboration between the Center for Academic Innovation and Coursera on the development of 10 XR-enhanced courses that will focus on the future of work. The first courses in the series will launch this winter.
The online portion of the Summit featured more than a dozen faculty and staff from U-M giving short presentations on how they are working with the Center on XR projects. Presentations are available to view any time.
Welcome and Keynote Address
Welcome and introduction with Jeremy Nelson, Director, XR Initiative, U-M Center for Academic Innovation. Overview of XR at Michigan, discuss agenda for the days one and two. The Keynote features Jeremy Schrieber, director, mesh enterprise commercial lead at Microsoft.
XR Faculty Innovators
Featuring: Jeremy Nelson, Director of XR Initiative; Jonathan Rule, Clinical Assistant Professor of Architecture and Urban Planning, A Alfred Taubman College of Architecture and Urban Planning; Michael Nebeling, Assistant Professor of Information, School of Information and Assistant Professor of Electrical Engineering and Computer Science, College of Engineering; Michelle Aebersold, Academic Program Director, Clinical Professor of Nursing, School of Nursing and Clinical Associate Professor of Information, School of Information
Lightning talks from Michelle Aebersold, Jonathan Rule, and Michael Nebeling, the Extended Reality Initiative's Faculty Innovators. Nebeling's work focuses on human-computer interaction and discusses his interest in both the creators and users of extended reality experiences. Aebersold discusses her work in using extended reality experiences for healthcare training. Rule talks about using XR to study and test fabrication and construction elements.
Custom Built VR Apps
Featuring: Brendan Kochunas, Assistant Professor of Nuclear Engineering and Radiological Sciences, College of Engineering; Thomas Schwarz, Associate Professor of Physics, LSA; and David Siepmann, A. Alfred Taubman
Lightning talks from Brendan Kochunas, Thomas Schwarz, and David Siepmann, who worked with the Center for Academic Innovation's Extended Reality Initiative to develop custom apps for their courses. Brendan Kochunas discusses his work developing the virtual Ford Nuclear Reactor. David Siepmann discusses Augmented Tectonics, an immersive learning platform that takes textbook learning elements and transforms them into a dynamic 3-D environment. Thomas Schwarz discusses transforming the intro to physics lab into a VR experience to make it more exciting and accessible for students.
Exploring XR Environments
Featuring: Rory Walsh, Research Fellow, Center for Korean Studies and Adjunct Lecturer, Center for Korean Studies, International Institute, LSA; Kacey Lohmann; Professor of Earth and Environmental Sciences, LSA; Research Consultant, LSA Technology Services; Mark Lindquist, Assistant Professor of Landscape Architecture, School for Environment and Sustainability
Lightning talks from Rory Walsh, Kacey Lohmann, Peter Knoop, and Mark Lindquist about how their experiences help students explore new environments. Walsh discusses using a virtual recreation to help students explore Korea's Jeju Island using the app Wander, which uses images from Google Street View to create a virtual environment. Lohmann and Knopp discuss the pivot after COVID to creating a virtual excursion for geology students and how to provide the information needed to observe, document, synthesize and interpret different samples. Lindquist discusses research in the audio and visual fidelity of virtual environments and impacts on immersion.
Medical Education in XR
Featuring: Mark Cohen, Professor of Surgery, Professor of Pharmacology, Medical School and Professor of Biomedical Engineering, Medical School and College of Engineering; Raza Zaidi, Assistant Professor of Anesthesiology, Medical School; Taylor Kantor, House Officer, Thoracic Surgery, University of Michigan Hospitals
Lightning talks from Michigan Medicine doctors about how XR is applicable in teaching and patient care settings. Dr. Zaidi discusses teaching difficult airway management using 360-degree video immersion to residents and board-certified physicians. Dr. Cohen discusses his work and grant for the Center for Medical Innovations in Extended Reality (MIXER), which focuses on how high-speed connectivity, AI and machine learning can create immersive telepresence and improve medical education. Kantor discusses using extended reality technology to provide residents more autonomy in operating rooms while allowing faculty physicians to observe and advise from outside the room or remotely.
Soft Skill Development Tools
Featuring: Angela Benke, Associate Director of Talent Acquisition; and Michelle Aebersold, Academic Program Director, Clinical Professor of Nursing, School of Nursing and Clinical Associate Professor of Information, School of Information
Discussion of how XR tools are transforming how soft skills are taught. Benke discusses using virtual worlds and avatars to improve hiring manager training and including practice on tough conversations, interviewing, and employees separating from an organization. Aebersold discusses how the same platforms and methods could improve medical student and nursing training and leadership skills.
XR for Student Learning
Featuring: Anıl Çamcı, Assistant Professor of Music, School of Music, Theatre & Dance; Hera Kim-Berman, Robert W Browne Professor of Orthodontics and Clinical Associate Professor of Dentistry, Department of Orthodontics, School of Dentistry; and Rebecca Quintana, Associate Director, Learning Experience Design and Adjunct Lecturer in Education, School of Education
Lightning talks from faculty about how XR has changed student learning outcomes across disciplines. Çamcı discusses the development of Inviso, a browser-based tool to design 3-D audio environments, and his work developing augmented and virtual reality versions that will allow people to collaborate remotely. Kim-Berman discusses how the School of Dentistry is using virtual reality to use virtual head and neck anatomy imaging for potential diagnosis. Rebecca Quintana discusses her course on teaching in XR to help understand the learner experience, teaching potential and possible shortcomings.
Interpersonal Practice in XR
Featuring: Katie Coleman, Lecturer in English Language Institute, LSA; Larry Grant, Professor of Social Work, School of Social Work; Soyeon Kim, Director of Korean Language Program, LSA; and Jiyoung Kim, Lecturer in Asian Languages and Cultures, LSA
Lightning talks from faculty about how XR has created opportunities to practice skills that aren't easy to repeat in real life. Coleman discusses creating interactive speaking courses for international undergraduate and graduate students to help with practice after everyone went remote. Grant discusses transformative learning and the creation of Digital Brave Spaces for Social Work Education. Soyeon Kim and Jiyoung Kim discuss virtual interactions in Seoul for an intermediate Korean language course, a virtual creation for students who could not travel to Korea as part of their language study because of COVID.
XR in Nursing
Featuring: Barbara Medvec, Clinical Assistant Professor, School of Nursing; Deb Lee, Clinical Assistant Professor, School of Nursing; Melissa Bathish, Clinical Assistant Professor, School of Nursing
Lightning talks from Nursing faculty about how XR is improving teaching and patient care outcomes. Barb Medvec explores how their team is creating interactive 360 video experiences to practice competency skills for Nurses in administrative positions. Deb Lee and Melissa Bathish discuss how they are using the HoloLens 2 and Dynamics 365 Guides to scale up nursing skills by augmenting physical mannequins to learn procedures such as lumbar puncture and catheterization.
XR in Construction & Engineering
Featuring: Jordan Noey, Graduate Student Instructor in the Department of Nuclear Engineering; and Hongrui Yu, Graduate Student Research Assistant in Civil and Environmental Engineering
Lightning talks about multiple types of XR are applicable in a wide range of engineering situations. Noey discusses using extended reality to increase accessibility and safety in training in high-radiation areas for purposes of certification. Hongrui Yu discusses using augmented and virtual reality to create spatial relationships during the design phase of engineering projects.
Closing Remarks and Coursera Conversation
Featuring: Jeremy Nelson, Director of the XR Initiative, Center for Academic Innovation; Lauren Atkins Budde, Director, Open Learning Initiatives, Center for Academic Innovation; and Betty VandenBosch, Chief Content Officer, Coursera.
Nelson, Budde and VandenBosch announce the partnership between the Center for Academic Innovation and Coursera to develop 10 XR-enhanced courses focused on the future of work. This major announcement sets the stage for the next two years of the XR initiative and how XR will scale to impact a global learner audience.