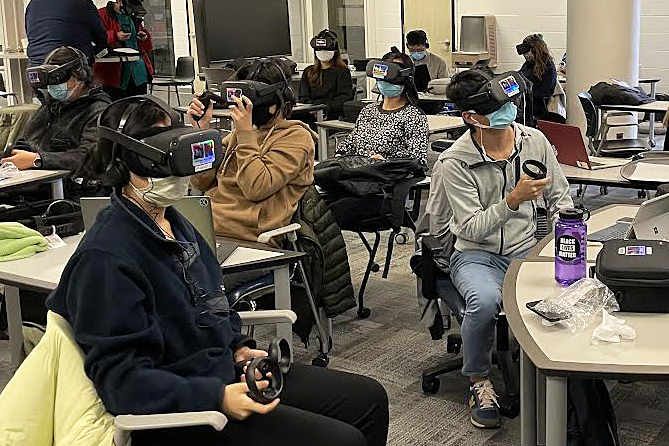 School of Information offering free online info session  on XR grad certificate
Sean Corp, Content Strategist
Students interested in learning more about the Rackham Graduate Certificate in Extended Reality offered by University of Michigan's School of Information are encouraged to attend an online information session Feb. 15.
The School of Information has worked closely with the Center for Academic Innovation on several online courses and initiatives, and are closely connected to the XR certification program from supporting faculty who teach courses connected to the certificate and hiring students as XR fellows who help develop XR courses.
The free information session will be held at Noon on Feb. 15 via this Zoom link with a recording available after the event for those who cannot attend. Prior registration is not required. 
The program is open to all U-M grad students regardless of degree program and is available as an add-on to students' primary degree programs. The certificate consists of 12 credits of course work and a certificate project. 
The certificate appeals to students across disciplines because XR technologies are becoming common in more fields all the time.
As noted on the School of Information website: 
"​​Recent years have seen an explosion of investment in XR technologies by major technology companies including Microsoft, Google, and Facebook. As a result, students with skills in the design, construction, and evaluation of XR experiences are increasingly in demand, as are scholars who can bring critical perspective to the role that XR plays in diverse domains such as education, healthcare, engineering, and entertainment."

School of Information
The application deadline for the Fall semester is Feb. 25. 
Applicants are required to submit an application through Rackham and an auxiliary application via the XR program. Additional details about the admission timeline and process are available on the School of Information website.