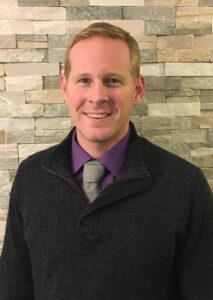 Jeff Bouwman's goals were simple — embrace the power that makes video games so engaging and apply it to his classroom. Bouwman, an adjunct professor of science education and educational technology on the University of Michigan – Dearborn campus, wanted his class to be designed like an open world where students determined how to move forward.
"GradeCraft is awesome. The way I use it, it's kind of like a video game," Bouwman said. "My students love the structure. They get to work and start picking assignments, and I gotta be honest with you, the work is awesome. Having the freedom to choose their assignments makes it enjoyable for them."
GradeCraft is the learning management system that allows Bouwman to integrate the idea of gameful learning, a pedagogical approach inspired by techniques and methods found in games, to create a unique and engaging learning environment for his students.
The software allows instructors to flip the framework of their course so that each student starts at zero points. Students then earn points to work their way up to the grade they want as they complete milestones in the class.
The structure of gameful courses allows students to take risks and try different assignments without the fear that their grade will suffer, because there are many opportunities for them to increase their points. It also gives students autonomy to make choices about when and what type of work they want to do.
"You start at zero and you climb the hill," Bouwman said. "If you want an "A," you've got to get to a certain point level. You have the freedom of choice; you get to pick the assignments that you want to do. Many students aren't quite sure how that works at first because they're so used to a traditional course style, but with GradeCraft, they love it once they figure it out."
Some of Bouwman's students have responded so well to the grading format that even when they reach the maximum number of points they need to get the grade they want, they complete more assignments.
"I've actually had a few students that are so into it that even when they reach the point level required to get an "A" grade, they keep going. They just loved the GradeCraft setup so much that they kept going. I think that speaks volumes for the engagement and motivation that GradeCraft brings to the college classroom. It's really quite special."
Bouwman said that because his students enjoy the class structure so much and are more eager to learn, their assignments and projects improve.
"If you love the setup and you like the class, the quality of your work is going to go up because you're happy. I'm seeing that firsthand because the students' projects are great," Bouwman said. "Students want to come to the class and they actively participate. I would say that GradeCraft has had a huge influence on that."
Bouwman has been using GradeCraft for five years now for his course EDT 211/511, which focuses on getting future teachers familiar with technology.
Outside of being a professor at U-M, Bouwman is also a sixth- and seventh-grade science teacher and robotics coach at Shumate Middle School. In the future, he said he hopes to integrate GradeCraft into his middle school classes as well.
"Eventually I would like to maybe find a way to use GradeCraft here in the middle school setting, whether we decide to do that "Eventually I would like to find a way to use GradeCraft here in the middle school setting, whether we decide to use it as a science team or I use it with one of the electives I teach," Bouwman said. "Gamified learning is a great method, and I'd like to do more of it." a science team or maybe that's something I could pull in with one of my electives that I teach," Bouwman said. "So, it's real, it's current, you know gamified learning is a really cool thing, and I'd like to do more of it."