Parnia Mazhar, Communications Fellow

The University of Michigan's Extended Reality (XR) Initiative received an Epic MegaGrant with plans to hire student fellows to contribute to its XR projects. This was the first time a department within the University of Michigan has received a grant from Epic Games.

Epic MegaGrants is a $100 million program that supports game developers, enterprise professionals, media and entertainment creators, students, educators, and tool developers doing amazing things with Unreal Engine or enhancing open-source capabilities for the 3D graphics community, according to Epic Games. The XR Initiative, a part of the Center for Academic Innovation, received $120,000 in support from the MegaGrant.
"While the University has made an investment in the XR initiative which has been great to help spur our innovation, especially now as budgets are getting tightened due to the pandemic, grants like these will allow us to really build out our infrastructure, hire more students, scale up, and set the right foundation," said Jeremy Nelson, director of the XR Initiative. 
The MegaGrant will be used to fund XR student fellows for the next two years and help educate them in different tools and processes like Unreal Engine, a game engine developed by the company Epic Games. The XR team plans on hiring around 20 to 30 student fellows to contribute to different projects and help in areas such as building out storyboards, writing code, and creating 3D models for the XR projects we fund, according to Nelson.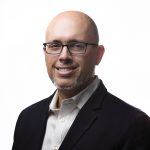 "My goal has been to set a structured design and development process with our team and then begin to expand to hiring students," Nelson said. "Students will get experience working in an environment like a studio and gain access to this cutting edge technology, which will allow them to see how everything works and help us improve our work. And hopefully, they'll be better prepared for the industry after working for the center."
Over the past year, the XR Initiative has been working on projects including creating a virtual nuclear reactor, a virtual physics lab and working with 360 degree videos and images to simulate in-person scenarios, such as a negotiation between two employees. 
Nelson said these projects are important because they allow people to take part in scenarios they are unable to do in person, and to experience them in a realistic manner through XR.  
For instance, in the virtual nuclear reactor simulation, students are able to virtually go into the reactor core and see what happens when the control rods are inserted or pulled out of the water. 
"You couldn't do that in real life," Nelson said. "So these types of learning experiences are what we hope will help advance student learning and engagement in a new way."
The pandemic has forced workers everywhere to engage in more video conferencing, but there are alternatives in the XR space in new virtual social platforms that allow virtual meeting attendees to be represented as 3D figures and avatars in a 3D environment, giving new depths to online meetings.
"Just in the way you would experience these interactions, it feels like you're more present and like you're interacting in a way that's closer to doing it in person," Nelson said. "So on that end, I think there's some really interesting opportunities to explore with XR." 
The XR Initiative has also been working with Michael Nebeling, an assistant professor in the School of Information and College of Engineering, to support the creation of "XR for Everybody," a new Massive Open Online Course (MOOC) set to launch Dec. 15. The MOOC is a specialization that will be focused on knowing, doing and shaping the future of XR.  
It is broken into three courses and lays a foundation of defining XR, from virtual, augmented and mixed reality to the reality we experience outside of technology. The MOOC also gives an introduction to the various XR technologies and will give learners the tools to begin to design and develop their own programs.
"The XR initiative supports all 19 schools and colleges at U-M, and I see ways to intersect or bring this technology to every single program," Nelson said. "So if you're interested in exploring the XR space, really understanding this foundation and how to bring XR to your discipline would be very valuable." 
The course will be available on the Coursera online learning platform through Michigan Online.