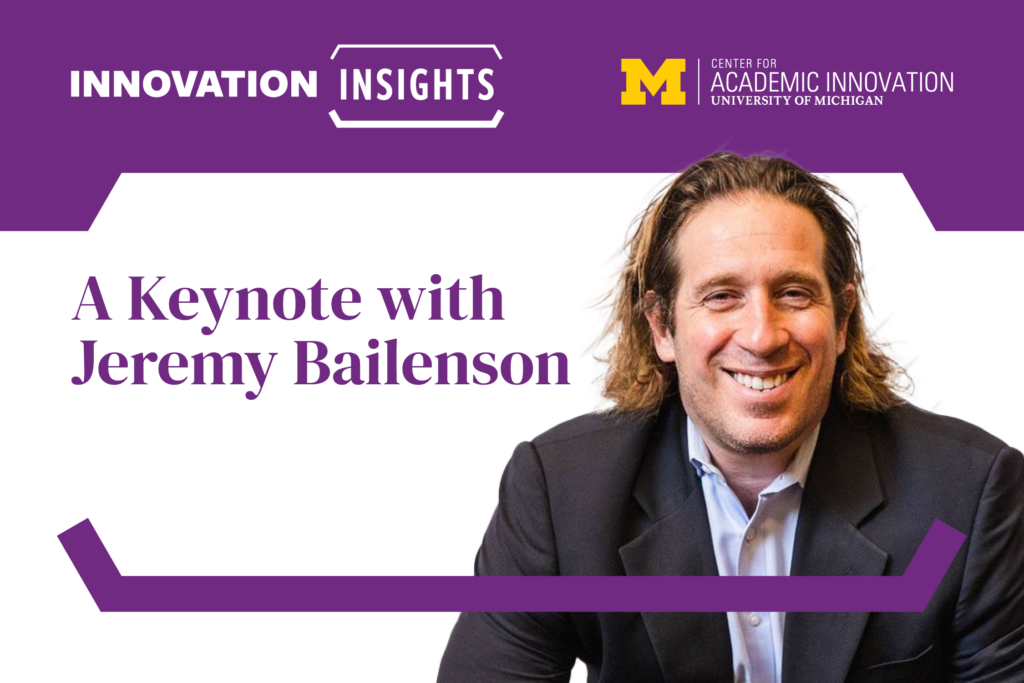 Sean Corp, Content Strategist
Jeremy Bailenson, one of America's leading experts in how humans interact with virtual environments, will deliver an address on the appropriate use of virtual reality in education on Oct. 13 at the Michigan Union. Bailenson's address, part of the Center for Academic Innovation's Innovation Insights speaker series, will begin at 12:30 p.m. and registration for the free event is required. 
Bailenson, professor of communication at Stanford University, has studied the psychology of virtual reality technologies for 24 years, and in 2003 founded the Virtual Human Interaction Lab.
He will deliver an address titled "What VR is Good for (And What it is Not)" where he will discuss a framework he developed called DICE, a method to allow individuals can evaluate the use of virtual reality in an experience based on whether a real-world equivalent would be Dangerous, Impossible, Counterproductive, or Expensive. 
Bailenson will also discuss the historical successes and failures of virtual reality technologies in the past, its recent proliferation and accessibility, and provide guidelines on how to deploy a virtual reality project effectively. 
Bailenson, a U-M alum, previously worked with the university and the center in the development and deployment of the virtual reality experience "1,000 Cut Journey" in collaboration with Courtney Cogburn, previously of U-M and now an associate professor at Columbia. In "1,000 Cut Journey" users experience life as a Black man through distinct stages of his life, including classroom and workplace microaggressions to encounters with police.
Recently, Cogburn and Bailenson worked with the center to rebuild 1,000 Cut Journey using Unreal Engine and making it available for mass use via the Meta Quest store and for Meta Quest 2 headsets.
Innovation Insights
The Center for Academic Innovation brings together people who want to transform education, share knowledge, and increase learner success by hosting inspiring talks, collaborative problem-solving workshops, and discussions on the latest in educational research and practice. The Innovation Insights series features a diverse lineup of topics, delivered by leaders in academia and private industry, united by the common goals of delivering insights into how to further academic innovation and build the future of education.