Sean Corp, Content Strategist
Enrique Neblett wasn't sure what to expect when he began the Public Engagement Faculty Fellowship. A professor in the School of Public Health, Enrique was excited to learn how to better communicate his research and make it resonate with the public. But the planned in-person fellowship with a cohort of committed faculty and intensive, hands-on instruction shifted, like everything else, into a virtual environment because of the coronavirus pandemic.
As he reflected on his experience halfway through the fellowship, Neblett said he was happy that he and everyone else in his cohort took part. Neblett said he emerged with new skills, increased confidence, and a network of peers just as passionate about engaging with different audiences.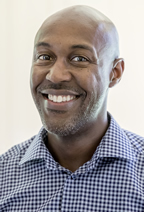 "I feel really empowered for the first time. I feel confident … in ways I haven't felt before," said Neblett, a professor of health behavior and health education in the School of Public Health. He joined seven of his fellows on a Zoom roundtable discussing reflecting on their experiences. "I am excited to have the opportunity to think about how to go beyond the traditional outlets to expand the conversation and have impact beyond those traditional ways," said Neblett, whose research includes racial disparities in public health outcomes.
Learn More | Public Engagement Faculty Fellowship
Embracing The Challenge
The coronavirus pandemic hit as preparation was underway to welcome the first cohort into the University of Michigan's Public Engagement Faculty Fellowship (PEFF), led by the Center for Academic Innovation in collaboration with partners across campus. A month-long, in-person intensive experience was quickly reorganized and reformatted to an online setting. Amidst the upheaval of moving courses online, rearranging travel plans, and adopting the concurrent roles of a home-based instructor, parent, teacher, and more, cohort members had to assess whether it made sense to commit to the program.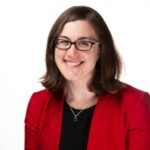 Elyse Aurbach, public engagement lead and leader of the fellowship program for the center, was thrilled when nearly all those invited to take part in the fellowship said yes. The new format was a mix of online workshops, personal reflections, and readings on public engagement exercises.
"Everyone embraced the transition in moving the Studio Experience online," said Aurbach. "We are so grateful for the opportunity to collaborate with the Center's teaching and learning experts, which allowed us to successfully translate the experience online."
A Mission That Meets the Moment
By the time the virtual sessions launched, marches in support of the Black Lives Matter movement and condemning police brutality were popping up throughout the U.S., including cities such as Ann Arbor and Detroit. Neblett and the other members of the fellowship saw how relevant their research was to the current moment. They saw in real-time how public engagement served as a critical component by which universities and academics help build a better world.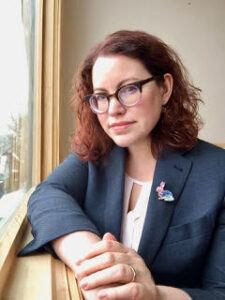 It's all part of the university's mission, and a commitment researchers must make, said Holly Jarman, an assistant professor of health management and policy in the School of Public Health.
"It speaks to the heart of who we are as scholars, as advocates, as community members, as, hopefully, participants in the place we're in, the context we're in, the time we're in," Jarman said. "If we are not doing public engagement as a core part of our university mission, we are doing something wrong."
Participants in PEFF represented departments across U-M, including nine schools and colleges. Fellows took part in an intensive studio experience of engaged learning and will then submit project proposals to fund a public engagement project with in-kind support from the Center for Academic Innovation and other campus partners.
"It was truly inspiring to see the cohort engage so deeply with the material, each other, and experts from around campus. The intergenerational and interdisciplinary learning community felt electric – I can't wait to see what the cohort does with their projects," said Aurbach.
Many came away from the studio experience learning or refreshing fundamental skills in public engagement. They also were able to connect with colleagues with a similar passion for reaching out and engaging as part of their scholarly mission.
"I feel like I've found my people," said David Michener, curator at the Matthaei Botanical Gardens and Nichols Arboretum. Michener also said learning from presenters and talking among his peers inspired him in new ways about ways to reach out and connect with potential partners. "I'm changing very quickly about how I understand how to be respectful and a change agent partner from the university."
Taking Skills to the Next Level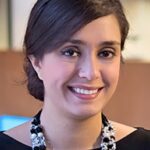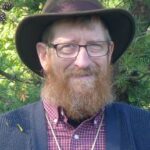 Many participants indicated a newfound confidence thanks to what they learned as fellows and believe that the fellowship will energize their work going forward.
"As academics, we are used to going to conferences and talking to people that think like us and see things the way we do, but over the years, what I've seen is the chances I've had to make the most change have been in really uncomfortable situations. Being in front of people who don't necessarily think the way I do," said Roshanak Mehdipanah, professor of public health in the School of Public Health.
"It's incredibly inspiring to be around the other people in the cohort and to learn about all the different things people are doing," said Ann Chih-Lin, associate professor in the Ford School of Public Policy.
Many in the cohort are taking the skills that they learned through the studio experience to craft project proposals focused on public engagement that would be developed in collaboration with the center. Accepted proposals will be announced in November.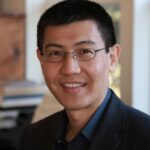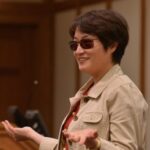 For now, the fellows are grateful for the studio experience even as there are so many challenges inside and outside of academia. More importantly, they appreciate finding others with a similar passion for engaging directly with the public to help broaden the understanding of their research.
"Being in a community of people who want to engage with the larger society as a whole is invigorating," said Kentaro Toyama, W.K. Kellog professor of community information in the School of Information. "It makes me realize that I'm not alone in thinking that some kind of public impact and public engagement is important."