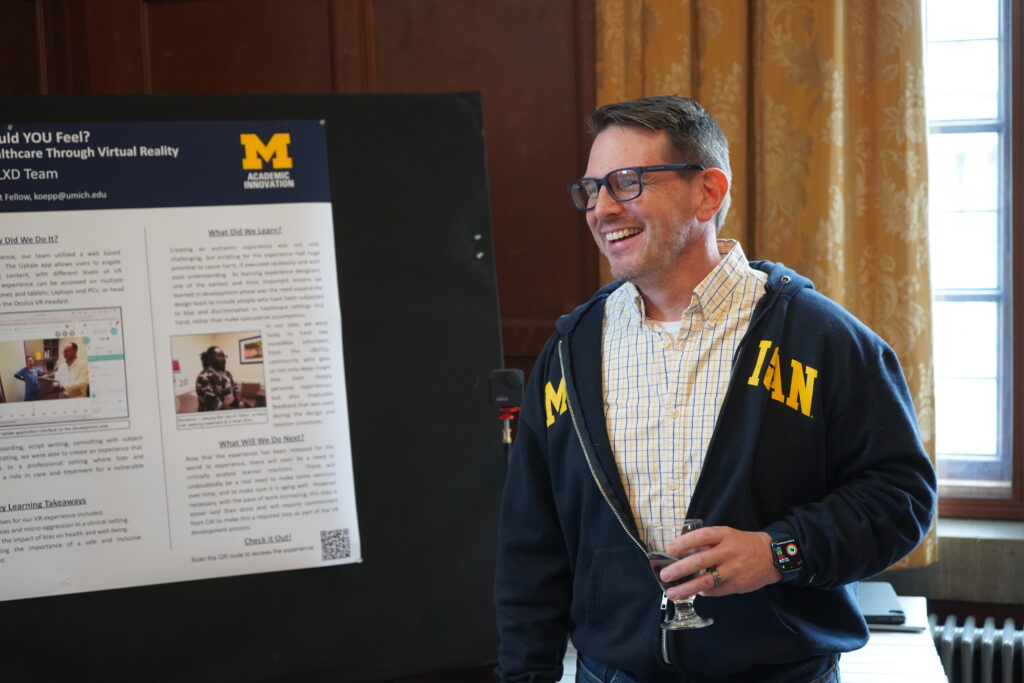 Sean Corp, Content Strategist
Center for Academic Innovation students and staff packed the Pendleton Room at the Michigan Union to celebrate the achievements of the 2023 Student Fellows and Student Residents. These students worked across the center's teams in a variety of disciplines to co-create software and learning experiences, conduct research, create virtual environments and more. The Student Residents work at the center as part of their enrollment in the Learning Experience Design Graduate Certificate offered jointly through CAI and the Marsal Family School of Education.
The center's fellow and residency programs include roughly 45 undergraduate, graduate and post-graduate students annually from across the University of Michigan. In the past five years, the center has engaged hundreds of students through the programs from all 19 schools and colleges at U-M. On this day at the Union, they had the opportunity to share their experiences, discuss their research projects, and be celebrated for all of their achievements.
"Our student fellows set the tone for our center," said Roderick Simmons, student experience and engagement lead. "They inspire us in our work daily and we are inspired by their passion, their creativity, and their drive."
As part of the fellowship program at the center, they get hands-on training and experience on unique projects including building open online course content, designing live online event series called Teach-Outs, building software as part of the center's portfolio of educational technology tools, conducting user research, and building virtual environments as part of the center's commitment to implementing extended reality in both residential and online education.
"When I think about what sets our center apart, it's pretty straightforward," said James DeVaney, founding executive director of the Center for Academic Innovation, "We build the future of higher education with our students, not simply for them. Our student fellows challenge the present and help us look around corners and into the future in ways that will deeply improve the academic experiences, health, and wellness of those who will follow in their footsteps."
The event also served as a reflection opportunity for the student fellows, Simmons said. "Think about your journey here at the center. Think about the personal and professional growth you have experienced."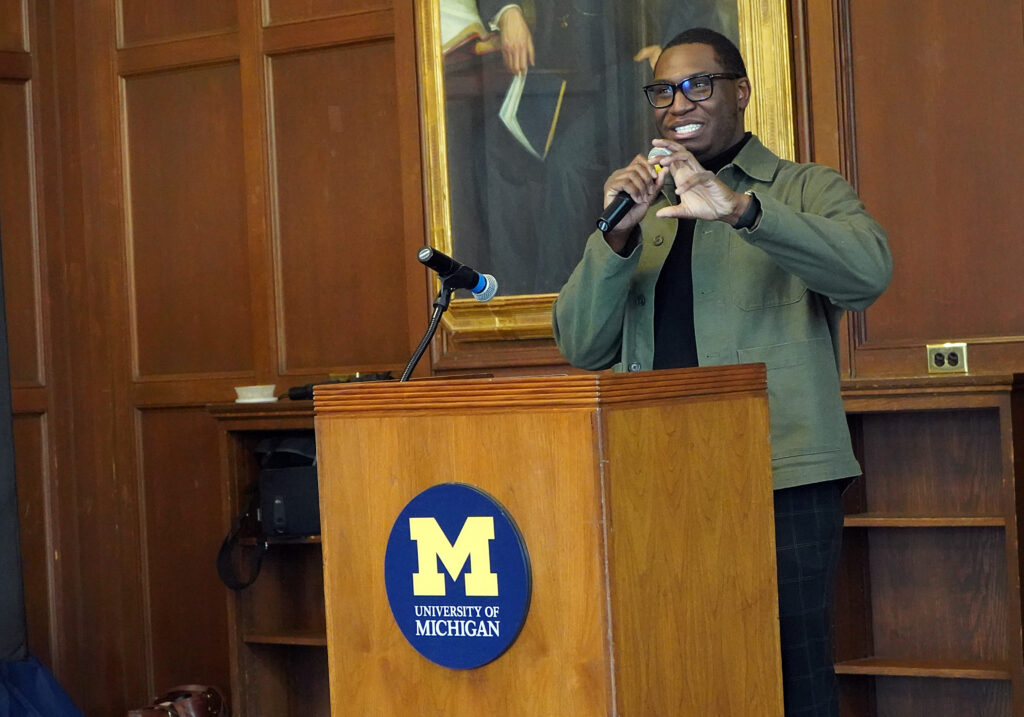 That professional growth was on display as the room was surrounded with poster boards of research projects and reflections on their student fellow experiences. Among the posters on display were breakdowns of XR storyboarding, incorporating the math of rocket science at a "101 level" for everyday learners, and even designing augmented reality to improve clinical nursing skills. The student fellows were on hand to discuss their research and experiences with everyone at the center and continue reflecting on their overall experiences.
Many students remarked how the center allowed them to enter the job market with unique and specific skills in their fields of study or even opened up new doors and career paths they were eager to explore.
"I felt very grateful for the opportunities through the residency program. I learned a lot from the LXD team, and as a nontraditional student who is working toward transitioning careers, I feel like CAI has been an incredible source of support," said Ryan Koepp, a learning experience design and XR student fellow.
For Annie Eng, a design management fellow who helped with the creation of open online courses, the center allowed her to focus on accessible learning and set her on a new professional path.
"This has helped shape the trajectory of my short-term goal of now working in the ed tech space," Eng said.
It's also allowed other students to learn how best to use their voice and for others to understand new perspectives.
"I learned to never hesitate to ask questions," said Zhiqing "Jennifer" Zheng, a learning experience design and software ambassador fellow.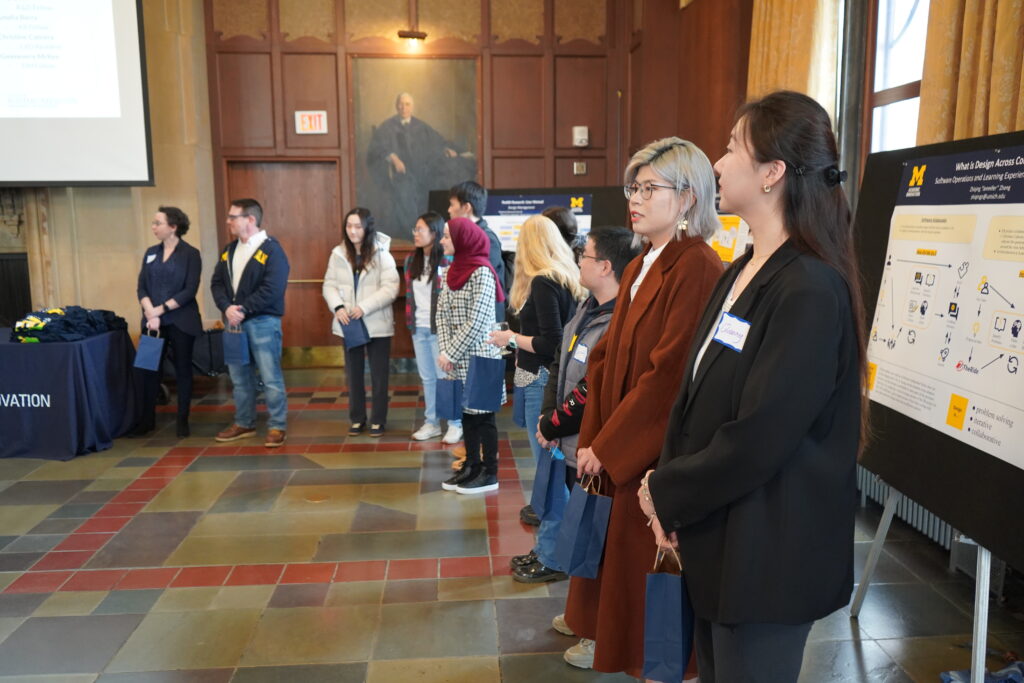 "Having the opportunity to engage with people and conduct research globally has not only broadened my perspective on life but it's also helped me sharpen my skills as a researcher and achieve my professional goals," said Marco Lang, a research fellow.
The students are really co-pilots in innovation, Simmons said.
"I am always so inspired by what our students are able to accomplish, and how much you can see them grow from Day 1 to their final day at the center. They help us navigate innovations and provide valuable insights. My hope is that through our mentorship and coaching, students feel supported in their journey as they gain skills, enhance expertise, and increase their confidence."