Hannah Triester, Communications Fellow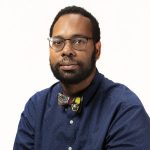 James Alexander is the Senior Software Ambassador at the Center for Academic Innovation. He helps align the learning experience with the technological development of tools designed and iterated on by the software development team. He is a believer in gameful pedagogy in the education space, originally joining the center to assist with the development of GradeCraft — educational technology software that helps build gameful courses. James is also an avid video game player and enthusiast.
We spoke to James to find out more about his work at the center and the intersection between teaching and gameplay.
What are some recent partnerships and collaborations you're excited about in the educational technology space?
The thing most exciting to me is the opportunity to work with a diverse group across campuses to highlight the skills and competencies that students at U-M learn in addition to the more traditional academic performance.
With ongoing conversations with University of Michigan-Ann Arbor's College of Engineering, Ross School of Business, Michigan Medicine, Women in Science & Engineering, and University of Michigan-Dearborn's Talent Gateway, we have a real opportunity to change how students think about and reflect on their experience here at U-M.
We are excited to have the opportunity to work on applications that can help shape that change.
What has been your favorite part about working at the Center for Academic Innovation as Senior Software Ambassador?
My favorite part is rolling my sleeves up and really getting into the design and integration work with faculty. We have amazing faculty partners on and off campus and I love getting to help them redesign their course while integrating new technology and pedagogies. I've always loved solving problems and each course is like it's own bundle of problems and challenges. Getting to unravel them and try to solve for them using our extensive software suite is pretty awesome!
What makes GradeCraft such an effective tool for instructors and students? Why do you think people turn to a gameful pedagogical model when they're looking for new ways to teach and learn?
Gameful pedagogy is all about autonomy and self-determination, and I think, especially within the context of the pandemic, it benefits us all to have a little more control of our destiny.
In addition, the world around us changes every day so our education methodology needs to be flexible enough to not break from those changes. When introducing assignments that students can choose to do and recover from if they don't, you inherently build in the flexibility needed to deal with the changing world.
These benefits are what I think has drawn a lot of faculty to testing out this philosophy and GradeCraft is purpose built to make that easier to manage.
GradeCraft allows faculty to build and manage having many more assignments than you might in a traditional course, while making it clear to students exactly what they need to do and can do to reach the grade they want to get. If something comes up and they miss something, it's not an issue because there are alternatives built into the design to help keep them on track.
Without that clarity and transparency it would be hard for students to keep track of everything going on in a gameful course.
In what ways do you think educational technology and software tools have helped students through the pandemic?
There are very clear ways that software has helped students, but the largest impact might not be as obvious.
Being able to communicate with their peers from all over the world over Zoom, or having to access your course content at any time that Canvas and GradeCraft support technology gives a lot of power back to the students.
However it can also be too much. We have all experienced some level of technological burnout. I don't know how many times I've heard of people being Zoomed out or the burden of an overstuffed email inbox.
This may sound counterintuitive, but the influx of software into the education space has helped remind us that we are human and that we sometimes need to give each other some grace.
We've come to accept that we don't always have a great handle on the tech, that everyone's camera and microphones, someone's microphone will always be muted or that not everyone has a clean dedicated office that they can work from.
It's helped remind us that each and every one of us is a person going through this chaos and that sometimes it's ok if your cat walks on your keyboard or that you need to stop for a second to take care of your family who's at work with you.
Walk us through the history of your favorite video game.
Favorite video game is impossible for me to decide, but I'll tell you about the four most important video games to me. First is the one that started it all, Super Mario Bros. My parents got me an NES pretty early in my childhood, and the first game I remember playing was Super Mario Brothers; and what an excellent gaming foundation.
With that said, I wouldn't say I was really into video games until 1997s Final Fantasy VII. As a kid, I was a big reader and that game was the first time I really experienced a story as big and epic as any book I had read up to that point. From that point forward., I was officially enthralled with video games. The next big milestone for me was The Legend of Zelda: Ocarina of Time. The first time I stepped into Hyrule field and realized how big the world could be and how much freedom I had to just explore was really mind blowing.
Finally, I can't talk about foundational games without mentioning Super Smash Brothers. There isn't a point in specifying a specific game in their series because I love each and every one. I spent an untold amount of time playing Super Smash Brothers with friends, and it really introduced me to the wider video gaming community. That helped me realize there were lots of other people who loved video games as much as me. If I hadn't decided to spend my life in academia, my second career choice would have been professional Smash Brothers player.