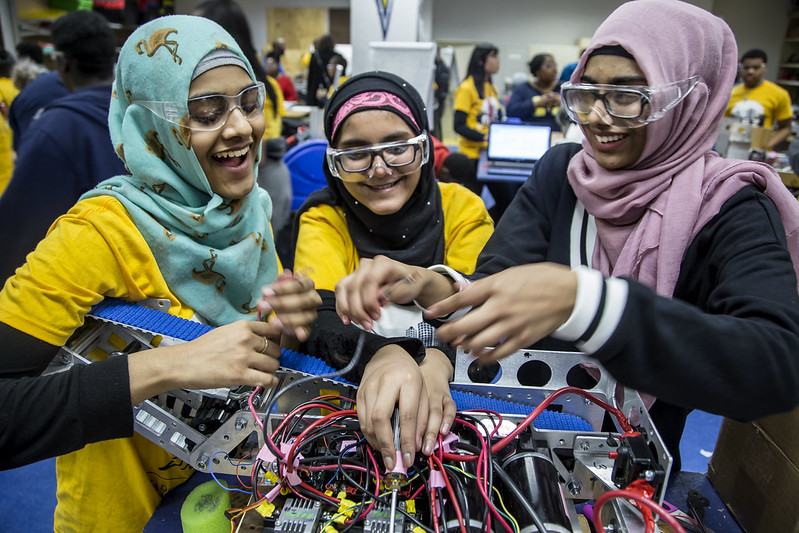 'Engineering for Activisim' pre-college program helps Detroit high school students learn how to use STEM skills to improve their communities
Hannah Triester, Communications Fellow
How do you build an immersive simulation of a collaborative, real-life scenario for students who can't be in the same room? Last summer, COVID-19 forced a popular STEM-focused summer program for high schoolers in Southeast Michigan to be reconceptualized. Led by the NAF Future Ready Scholars at the University of Michigan, the two-week session is part of a program that prepares students who are traditionally under-represented in the STEM field for college and careers through classes, leadership development, and mentorship.
The Future Ready Scholars program is a partnership between NAF Academies, the Ford School of Public Policy and the College of Engineering's Michigan Engineering Zone (MEZ), based in Midtown Detroit. The latter connects Detroit Public School students with professional engineers and U-M engineering students to teach the Engineering Design Process and its myriad community-building applications.
Explore | ViewPoint offers engaged learning through immersive role-playing simulations
Last summer, the Future Ready Scholars program used role-playing simulation software ViewPoint, developed at the Center for Academic Innovation, to bring their students together in new ways to solve engineering problems. Haley Hart, assistant director of the Michigan Engineering Zone and program director of NAF Future Ready Scholars, led the simulation and recently talked about using ViewPoint with her students.
"Our program is designed to be student-centered, hands-on, and project-based. As students are learning new STEM skills (like computer science, robotics, and computer-aided design), they are immediately applying their learning to solve real problems and imagine a better, more just world," said Hart.
USING VIEWPOINT TO BUILD CONSENSUS
In the simulation, students played Detroit City Council members who were considering a proposed city-wide driverless taxi service.
"Taking others' points of view is important to understanding social dynamics and how the world works around you. I felt like doing a simulation supported both the academic goals we have and some of those social and emotional goals we had with the students this summer," Hart said.
The software tool helped Hart engage 60 students in high-level legal thinking and debate. With the goal of consensus-building among individuals with different perspectives on an issue, ViewPoint enabled the young scholars to take on the active roles of their assigned, real-life council members—all from their desks at home.
"Some of them really took on the personas of their city councilperson, which was fun to see," Hart said.
By designating every student as a legislative leader, ViewPoint helped foster passion and responsibility for the debate proceedings. "Putting students in the role as experts is a very student-centered approach to teaching and learning and disrupts that teacher-led, top-down relaying of information," Hart said.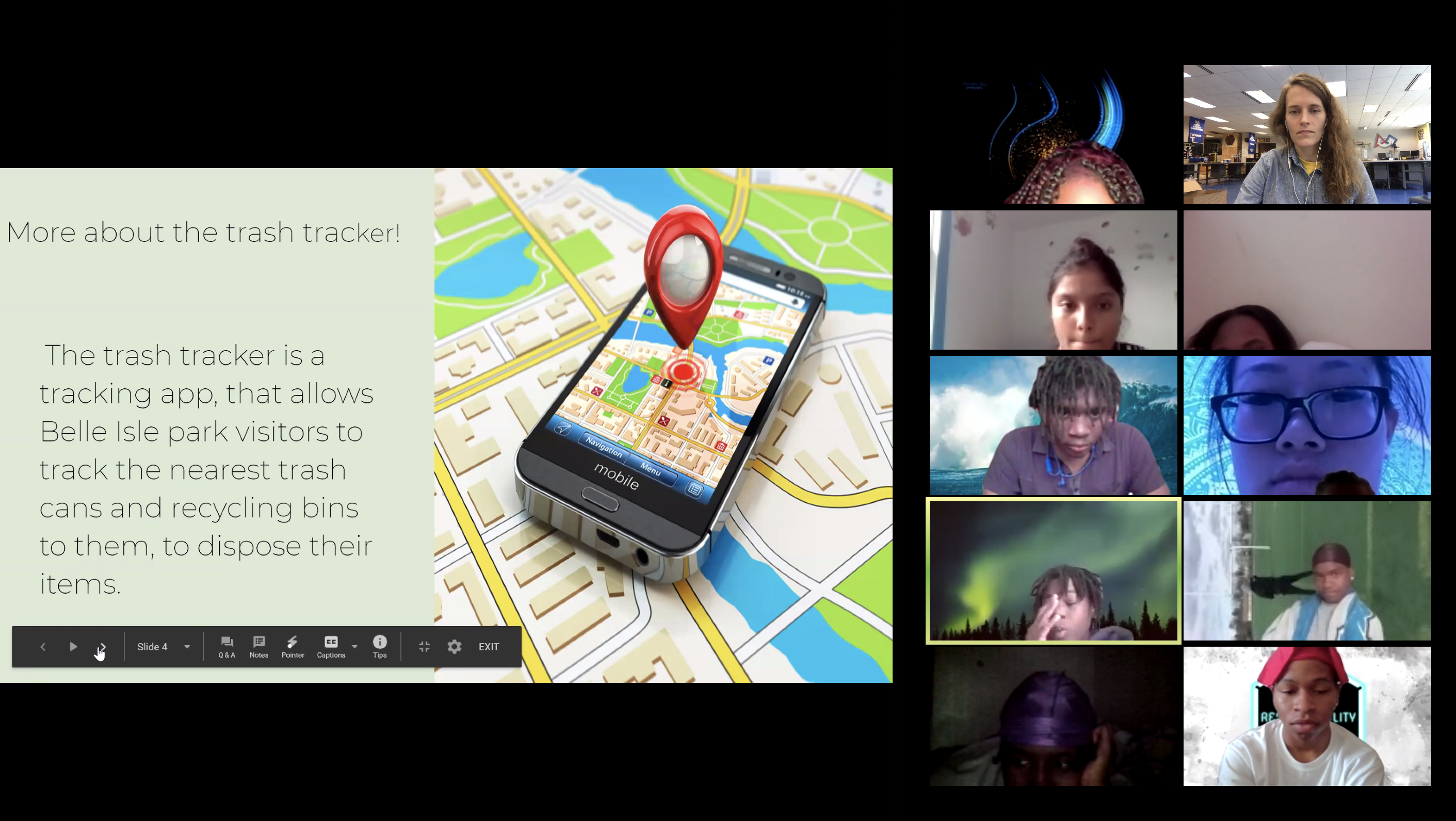 THE STEM MINDSET AND COMMUNITY CHANGE
Previous Future Ready Scholars have built apps to reduce pollution and designed a community center for senior citizens. Hart said she appreciates connecting STEM skills, student passion and problem-solving at the Engineering Zone.
"Personally, I love making and creating, and I believe that STEM mindsets and skills are just one way to help students develop and practice their active agency and work towards self-determination and community change. The students we teach will be the leaders and changemakers of the future, and it's a privilege to be a part of their educational journey."
However, the way to innovative solutions and brighter futures isn't limited to prototype design and SAT-prep. Community growth is an interpersonal challenge: it requires developing communication skills and the ability to analyze a multi-faceted problem critically. Hart saw ViewPoint as a way to bring students together virtually and explore a real-world challenge.
"From a STEM perspective, we're trying to develop students' problem-solving skills and provide access to tools that they can leverage to design and prototype different types of solutions. We call it "Engineering for Activism" because we want to illuminate how these problem-solving skills can help identify and combat injustice and inequities. Working through the engineering design process also encourages students to approach and embrace "failure" or mistakes as a necessary step in iteration and learning," Hart said.
BOOSTING STUDENT CONFIDENCE AND COMMUNICATION
ViewPoint was so valuable, Hart said, because it organized information about the topic into manageable parts, preventing the young students from growing intimidated by the complexity of a proposal. The software tool also organized the students themselves so that "council members" could test out their perspectives in small groups before the big debate.
"It was cool to see students change their minds multiple times, even throughout the simulation, because they were learning from other students and seeing it from a different viewpoint that forced them to reconsider what their previous position had been," Hart said. Opinion formation is a dynamic process, and ViewPoint took students through ideological considerations in understandable, confidence-building bites.
And it all felt natural and effortless, even in a virtual environment.
"From an educator standpoint, seeing students developing these arguments based on evidence was great because that's part of our learning standards. [ViewPoint] gave us this lively and engaging way to do some really good academic work. I don't even think the students necessarily saw it as learning to craft an argument, but I did as an educator," she said.
Using ViewPoint also showed the young students that while change is needed to make their world a better place, it is not easy.
"[It] gave students a better understanding of the local legislative process, and helped them understand why policy—why political change—can take time," Hart said.
USING TECHNOLOGY TO TURN PASSION INTO ACTION
Yet this did not deter any of the students, and their determination has Hart planning to use ViewPoint more in the future. Thirty more NAF Future Ready Scholars are joining the program this summer, where they'll again be using ViewPoint. This time, they'll be simulating state-level legislators' deliberations on the use of facial recognition technology.
"One of the things I love about these simulations is that we can take these personal issues, things that are really top-of-mind for students, and turn them into lively debates where they actually get their own feelings about it out there, but also consider these alternate viewpoints that can help them create a more informed stance on the topic."
Learn More | Create, Facilitate & Participate in a ViewPoint simulation
When students are given the tools to understand a challenging subject thoroughly, they take on a personal stake in the matter. Hart was pleased to witness two students resume the summer 2020 debate months after the simulation had ended when autonomous driving came up unexpectedly in a discussion. "That really showed me the impact the simulation had: that nine months from when we did it, students are still debating it, still really fired up around this particular topic," she said.
The Future Ready Scholars program recognizes that Detroit's children are its future and empowers students to see the bigger picture of their individual contributions.
"We hope that [our work] can open up a students' view of what's possible for their future, as well as what's possible for the future of Detroit, Southeast Michigan, and the world," Hart said.
"Just within Southeast Michigan, our students see and experience first-hand some of the greatest issues of our time, including racial, educational, and environmental injustice and inequity. We work alongside our students to imagine and develop solutions to these issues so that students can witness the value of their ideas, their voice, and their agency in creating change. At a community level, we're putting Detroit's future in the hands of Detroit's youth, who know and understand best what our community needs," Hart said.