Parnia Mazhar, Communications Fellow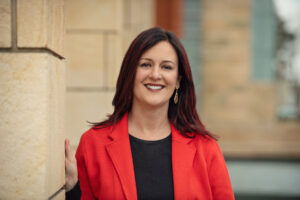 Rebecca Quintana, Ph.D., is the Learning Experience Design Lead at the Center for Academic Innovation and an adjunct lecturer at the School of Education at the University of Michigan. Quintana leads a team that uses a learner-centered approach to support faculty in designing online learning experiences for a global audience of learners. Quintana also co-directs the Learning Experience Design Graduate Certificate program, a collaboration between the Center for Academic Innovation and the School of Education. Recently, Quintana taught Resilient Teaching Through Times of Crisis and Change, an open online course available on the Coursera and FutureLearn platforms.
We recently asked Quintana about her journey working with the center and some recent projects.
What are some upcoming projects you've been working on and are looking forward to in the online education space?
I am involved in so many interesting projects that on any given week, I might give a different answer to this question. Perhaps because our inaugural meeting was recent, I am excited to share that I will be working with the Health Infrastructures and Learning Systems Online team as an ad hoc member of their Online Learning Experience Committee. The role of this working group is to ensure that the online learning experience for this exciting new degree program is of the highest quality, consistent with pedagogical approaches and instructional practices that are known to support learning, and fully supportive of the student experience. I hope that I can offer useful perspectives and guidance as I help to shape the learner experience for this program.
In the upcoming months, how are you planning to share your work and knowledge surrounding online learning with the global online learning community?
The spring and summer months tend to be full of opportunities to share knowledge with professionals and academics outside of the Center for Academic Innovation. While it can create additional pressures, I find that participation in these venues is extremely rewarding and allows me to grow professionally.
Recently, I had the opportunity to speak at the Pandemic Pedagogy Symposium about our efforts to foster reflection on practice in the Resilient Teaching MOOC using the Gamut Workbook tool (created by the Center for Academic Innovation). I also recently gave a presentation at the Media and Learning Conference on what Resilient Teaching might look like in a post-pandemic era. Connected to this topic, I'm contributing a book chapter, co-authored with Jacob Fortman and James DeVaney, on the Resilient Teaching approach that we advanced through the MOOC.
In June, I will participate in the Early Career Workshop at the annual meeting of the International Society of the Learning Sciences. During this conference, I will work with scholars in the field to more expertly tie together the various strands of my research at the Center for Academic Innovation thus far, which (broadly) investigates: How can we apply constructivist and community-oriented approaches to the design of MOOCs?
How has your work and research been impacted by the pandemic? Has it influenced the direction of your work in any way?
The pandemic has impacted the direction of my work in a lot of different ways. As a team lead, I have been working to find regular points of connection with my team, whether it be through regular Slack check-ins, weekly email messages, or even playful team-building activities. It has been rewarding to experiment with different approaches, such as sending tie-dye kits to the team before a synchronous session where we show off our creations and use tie-dye as a metaphor for discussion about change and growth.
In terms of my research, I am particularly interested in thinking about how we can use technology to support desired classroom interactions, albeit in different ways. For example, proponents of active learning classrooms often think about how flexible physical configurations of classrooms can create opportunities for active or engaged learning. I am interested in exploring how these ideas can be understood and realized in online spaces to create participant structures that are effective for learning.
What has been your favorite part about working at the Center for Academic Innovation as a Learning Experience Design Lead?
In my role of team lead, I have the opportunity to witness the Learning Experience Design team come together and support the work and initiatives of the center. Since we have been talking about the pandemic throughout this interview, I am reminded of how the team rallied and created a set of extraordinary resources and workshops to share with faculty and staff at the University, both through publishing guidelines online and through facilitating several "Ready to Go Blue" workshops in spring of 2020. This is just one anecdote, but it exemplifies how rewarding it is to be able to both observe and work alongside this amazing team.
You teach a MOOC on Resilient Teaching and will co-host a MOVE event in June about recreating learning experiences for a digital world. Could you share more about what Resilient Teaching is and how educators can follow resilient teaching practices to support learning?
Resilient Teaching is a set of design principles to guide instructors in the creation of designs for learning that are able to both anticipate and flexibly adapt to any disruption in the learning environment. We borrowed inspiration from a variety of disciplines (e.g., architecture, business, and computer science) to drive the notion that resilience is a quality that can be the outcome of good design. We also used ideas from Universal Design for Learning to inform our approach since it is an idea that is familiar to many educators and is complementary to our approach.
For our MOVE event in June, I am delighted to partner with Professor Don Peurach from the School of Education to discuss how we can use what we have learned about online teaching and learning during the pandemic to inform how we reconceptualize our practice. In our talk, we will present an emerging framework for re-creating high-quality learning experiences that are well-suited for a new digital reality. Our prior work on self-directed community-supported learning and resilient design for learning informs this "content to community" approach and provides a foundation for thinking about how it can be extended into a range of new contexts.
What is the Learning Experience Design Graduate Certificate program at the center, and why do you think it's valuable for those interested in the development of learning experiences?
The Learning Experience Graduate Certificate Program, offered jointly by the Center for Academic Innovation and the School of Education, combines courses on learning theory, curriculum design, multimodal literacies, evaluation, and research design with a hands-on residency experience at CAI. I think it is a valuable experience for those interested in becoming more familiar with the learning experience design process because the program provides graduate students with the opportunity to learn alongside professional learning experience designers at the Center for Academic Innovation while earning credit toward the certificate. Those who are interested in learning more should reach out to Tom Drake at the School of Education.